Scolarisation et dynamique urbaine à l'île de la Réunion
Auf der Insel Réunion, wo der Schulbesuch spät, aber um so nachhaltiger einsetzte, lehnte sich die Architektur der Schulgebäude an traditionelle Hausformen an. Große, anonyme Gebäudeeinheiten weichen kommunikationsfreundlichen Strukturen. Den unkontrollierten Spannungen, die von der Stadt ausgehen, wird nicht erlaubt, auf den Schulbereich überzugreifen.
In Réunion Island, where schooling is a recent and massive phenomenon, the architecture of successive school buildings has been getting closer to traditional forms of housing. Local intercultural relations are beginning to take precedence over large, anonymous structures. But due to educational requirements, whenever uncontrolled tensions in the city encroach the slightest bit on the school system it imposes limits regarding these new developments.
En la isla de La Reunión, donde la escolarización es reciente y masiva, la arquitectura de las construcciones escolares sucesivas es muy parecida a la de las viviendas tradicionales. El anonimato de las grandes estructuras deja paso a las relaciones de intercomunicación locales. Evolución que, no obstante, tropieza con los límites que impone la pedagogía a la menor intrusión de la ciudad sobre el terreno escolar.
Dans l'Ile de la Réunion où la scolarisation est récente et massive, l'architecture des constructions scolaires successives se rapproche des formes traditionnelles d'habitat. L'anonymat des grandes structures cède le pas aux relations d'interconnaissances locales. Évolution qui s'arrête toutefois aux limites que l'impératif pédagogique impose au moindre empiétement de la ville sur le domaine scolaire.
Fichier principal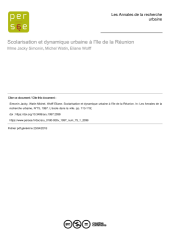 aru_0180-930x_1997_num_75_1_2099.pdf (2.32 Mo)
Télécharger le fichier
Origin : Publisher files allowed on an open archive
Licence : CC BY NC ND - Attribution - NonCommercial - NoDerivatives