Investissements directs à l'étranger des multinationales françaises et relations commerciales avec leurs filiales
In the debate over the substitution-complementarity relationship between foreign direct investment (FDI) and trade, studies usually consider aggregated trade flows. We pursue this debate by considering individual data for French Multinational Firms. Previous results show a complementarity between trade and FDI (Chedor & Mucchielli, 1998). We wanted to deepen this first analysis by considering the two different components of global trade: intra-firm (trade between a parent company and its affiliates) and inter-firm trade (or arm's length transactions). We examine to what extent intra or inter-firm trade are more complement or substitute to FDI. We finally found that complementarity for global trade is explained by a strong complementarity for intra-firm trade and a substitution for inter-firm trade.
Dans le cadre des débats sur la substitution-complémentarité entre les investissements directs étranger et le commerce extérieur il souvent été mis en évidence une discordance entre les hypothèses théoriques et les résultats empiriques Ce débat existe pour ensemble des pays et en particulier pour la France. Une précédente étude menée sur données individuelles entreprises avait mis en évidence une relation globale de complémentarité entre les investissements étranger des firmes françaises et leurs exportations Chédor et Mucchielli[1998] L'objectif de cette nouvelle analyse est approfondir cette relation en examinant quel type échanges les investissements directs sont plus directement reliés. Nous avons alors analysé les relations échanges des entreprises françaises qui investissent étranger soit avec leurs propres filiales échanges infra-firme) soit avec les autres entreprises des pays étrangers échanges appelés ci inter-firmes) Les nouveaux résultats indiquent que la complémentarité entre les investissements directs et le commerce total des entreprises multinationales françaises explique par une forte complémentarité du commerce intra-firme et par une substitution inter-firmes.
Fichier principal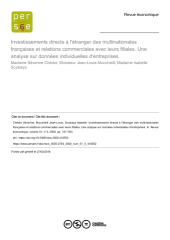 reco_0035-2764_2000_num_51_3_410552.pdf (1.33 Mo)
Télécharger le fichier
Origin : Publisher files allowed on an open archive
Licence : CC BY NC ND - Attribution - NonCommercial - NoDerivatives