Séchage de copeaux de bois et de bagasse : simulation numérique et comparaison expérimentale
Biomass waste is an important resource that can be used in various ways. In a number of cases (energy recovery, thermal insulation), a previous drying can be realised. In order to study coupled heat and mass transfer in such materials during drying, a comparison of results from experiments and numerical simulations is conducted on wood chips (Cryptomeria japonica) and sugarcane bagasse, produced in Reunion Island. The changes in temperature and relative humidity as well as the global moisture content are compared and allowed the identification of 4 apparent transfer coefficients (heat and mass).
Les déchets issus de la biomasse représentent une ressource importante pouvant faire l'objet de diverses utilisations. Dans un certain nombre de cas (valorisation énergétique, isolation thermique), un séchage préalable peut être réalisé. Afin d'étudier les transferts couplés de masse et de chaleur dans ces matériaux lors du séchage, une comparaison de résultats expérimentaux et numériques est menée sur des copeaux de bois (Cryptomeria japonica) et de la bagasse, produits à La Réunion. Les évolutions de températures et d'humidité relatives ainsi que la teneur en eau globales sont comparés et ont permis l'identification de 4 coefficients de transferts apparents (thermique et hydrique).
Fichier principal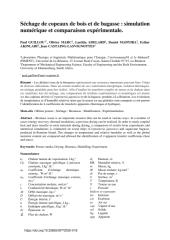 18_doi.pdf (707.48 Ko)
Télécharger le fichier
Origin : Files produced by the author(s)