A Different Treatment of Sports in the Media: The Use of Parody in the French Program Les Guignols de l'Info
Un autre traitement médiatique du sport, celui de la parodie à travers l'émission française des « Guignols de l'info ».
This article studies the progress of sports media coverage through a new form of headline treatment: parody. It presents the analysis of a corpus including the "best of" from the satiric program Les Guignols de l'Info. This program has been broadcast each evening on the French television channel Canal+ since 1989. The study is based on 265 sketches from 1990 to 2006 and asks the central questions of caricatures in the sports world: what they represent and what they assess. A list of appearances of the various puppets on the show is presented. The central figure of the sports world at Les Guignols de l'Info is the champion who is finally judged—through his or her different attributed caricature traits—on the core value of his or her authenticity. Although it criticizes the world of sports, Les Guignols redeems these sport champions.
En entrant aux Guignols de l'info les sportifs changent de statuts : de celui de champions ils accèdent à celui de stars. Un corpus de 211 sketchs s'étalant de 1989 à 2000 montre trois types de marionnettes sportives : les « naïves », les « dupeuses » et les « lucides ». Les « naïves » concernent le plus souvent les sportifs (JPP, Virenque, Alesi), les « dupeuses » les organisateurs (Tapie, Docteur Sylvestre), les « lucides » renvoient à certains sportifs (Cantona) et au présentateur vedette PPD (Patrick Poivre d'Arvor). Les Guignols de l'info opèrent une dissociation entre les jugements portés sur les organisateurs et ceux portés sur les champions. Les organisateurs sont le plus souvent cyniques et cupides, les champions le plus souvent naïfs. Tout en critiquant le sport les Guignols sauvent ses champions.
Fichier principal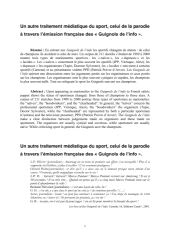 2008-Guignols Français.pdf (415.07 Ko)
Télécharger le fichier
Origin : Files produced by the author(s)