« Refoulé et recentré » : dynamiques touristiques et patrimoniales en Afrique du Sud et au Mozambique
Résumé Ce mémoire d'H.D.R. s'organise autour d'une pensée géographique ancrée sur les notions de refoulement et de recentrage/recodage. Le terrain concerné se situe en Afrique australe (Afrique du Sud et Mozambique), délimité par six espaces urbains prioritaires : Johannesburg et Pretoria sur les hautes terres sud-africaines ; Durban et Pietermaritzburg dans la province littorale du KwaZulu-Natal ; Maputo et Matola sis dans la partie méridionale mozambicaine. Le phénomène de « Dynamiques des marges patrimoniales » se situe au cœur du travail analytique et systémique mené, lequel repose sur plus d'une décennie de recherche. La réflexion porte sur les recompositions et la (re)valorisation de lieux géographiques et de faits historiques, par une mise en valeur à la fois touristique et patrimoniale. Elle cible la place et l'évolution de sujets tenant des « marge ». Ces dernières peuvent se considérer comme des objets-lieux périphériques et/ou refoulés au très fort potentiel mémoriel (soit aussi l'idée d'une ressource de territoire). Leur passé demeure effectivement attaché à une histoire pesante ou douloureuse ; il se voit ré-exalté sous diverses formes. Au final, la patrimonialisation touristique des matériaux « sensibles » met en interrelation enjeux et temporalités. Elle s'ouvre à un public très varié et permet d'apprécier différentes stratégies d'acteurs détenant un agenda précis. Elle finit aussi par exprimer des phénomènes de territorialisation et de mémorialisation.
Abstract This H.D.R. dissertation is organised around a geographical thought anchored on the notions of refoulement and recentering/recoding. The area of study is located in Southern Africa (South Africa and Mozambique), delimited by six major urban spaces: Johannesburg and Pretoria in the South African highlands; Durban and Pietermaritzburg in the coastal province of KwaZulu-Natal; Maputo and Matola located in the southern part of Mozambique. The phenomenon of 'Dynamics of Heritage Margins' lies at the heart of the analytical and systemic work carried out here, which is based on over a decade of research. The analysis focuses on the recompositions and (re)valorisation of geographical places and historical facts, through both tourism and cultural heritage enhancement. It targets the place and evolution of "margins" subjects, which can be considered as peripheral and/or repressed objects/places with a very strong memory-based potential. Their past remains attached to a dark or painful history; it is re-exalted in various forms. In the end, the tourist heritage of those "sensitive" materials brings together issues and temporalities. It opens up to a varied public and allow to appreciate strategies of actors with a specific agenda. It ends up expressing phenomena of territorialization and memorialization.
Fichier principal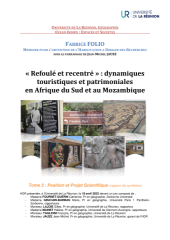 HDR_FF_tome3 scientifique_UR.pdf (13.99 Mo)
Télécharger le fichier
Origin : Files produced by the author(s)