Enchantement, désenchantement et réenchantement des rapports entre l'humain et la nature chez Gabriel García Márquez
In «El mar del tiempo perdido» (1961), García Márquez makes the sea, rejected by the inhabitants of a coastal village because of its hostility, a source of wonder, harmony, appeasement, physical regeneration, then permanent serenity, and finally inexhaustible wealth. However, six years later, in Cien años de soledad (1967), the Macondians are chastised for having allowed the United Fruit Company, the head of imperialism in Latin America, to flout the natural laws governing their edenic village. The pessimism of the vision seems total and joins the analysis of the founder of ecology Aldo Leopold who affirmed as early as 1949 that « we mistreat the Earth because we consider it as a good that belongs to us ». How to explain this evolution between the two works? At the end of his life, however, García Márquez left a glimmer of hope.
En «El mar del tiempo perdido» (1961), García Márquez hace del mar, rechazado por los habitantes de un pueblo costeño por su hostilidad, una fuente de asombro, armonía, apaciguamiento, regeneración física, y luego de serenidad permanente y finalmente de riquezas inagotables. Ahora bien, seis años más tarde, en Cien años de soledad (1967), se ven castigados los macondianos por haber permitido a la United Fruit Company, el eje del imperialismo en América Latina, burlarse de las leyes naturales que rigen su pueblo edénico. El pesimismo de la visión parece total y unirse al análisis del fundador de la ecología Aldo Leopold, quien afirmó ya en 1949 que «maltratamos a la Tierra porque la consideramos como un bien que nos pertenece». ¿Cómo explicar esta evolución entre las dos obras? Al final de su vida, sin embargo, García Márquez dejó un rayo de esperanza.
Dans « La mer du temps perdu » (1961), García Márquez fait de la mer, rejetée par les habitants du village à cause de son hostilité, une source d'émerveillement, d'harmonie, d'apaisement, de régénérescence physique, puis de sérénité permanente, et enfin de richesses inépuisables. Or, six ans plus tard, dans Cent ans de solitude (1967), les Macondiens sont châtiés pour avoir permis à la United Fruit Company, cheville ouvrière de l'impérialisme en Amérique latine, de bafouer les lois naturelles régissant leur village édénique. Le pessimisme de la vision semble total et rejoindre l'analyse du fondateur de l'écologie Aldo Leopold qui affirmait dès 1949 que « nous maltraitons la Terre parce que nous la considérons comme un bien qui nous appartient ». Comment expliquer cette évolution entre les deux œuvres ? A la fin de sa vie, García Márquez laisse cependant une lueur d'espoir.
Fichier principal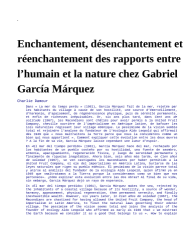 Charlie Damour Enchantement, désenchantement et réenchantement.pdf (197.15 Ko)
Télécharger le fichier
Origin : Publisher files allowed on an open archive
Licence : CC BY NC ND - Attribution - NonCommercial - NoDerivatives