Las Casas et le «chemin de Mahomet»
With the aim of denouncing the excesses perpetrated by the Spaniards in the New World and using the pretext ofspreading the "true faith", Las Casas took advantage of an image which has been rooted for centuries in popular Christian mentalities. It is namely that of Mahomet as a paragon of conquering violence. For many years, this image permeated the Dominican 's rhetoric in order to discrédit those who contradicted him. Later on, he refined it during the Valladolid Controversy with the purpose ofinflicting a final death blow on Juan Ginés de Sepulveda.
Para mejor denunciar los abusos cometidos en el Nuevo Mundo por los españoles so pretexto de extender la « verdadera fe », Las Casas se valió de una imagen secularmente arraigada en la mentalidad popular cristiana, a saber la de Mahoma, parangón de violencia conquistadora. Durante muchos años la retórica del dominico la instrumentalizó con el fin de desacreditar a sus contradictores. Luego la agudizó, en la Controversia de Valladolid, para dar el toque de remate a Juan Ginés de Sepúlveda.
Las Casas, pour mieux dénoncer les abus commis dans le Nouveau Monde par les Espagnols sous prétexte d'étendre la « véritable foi », se prévalut d'une image sé-culairement enracinée dans la mentalité populaire chrétienne, à savoir celle de Mahomet, parangon de violence conquérante. Pendant de nombreuses années, la rhétorique du dominicain l'instrumentalisa dans le but de discréditer ses contradicteurs. Puis il l'affina, lors de la Controverse de Valladolid, pour porter le coup de grâce à Juan Ginés de Sepúlveda.
Fichier principal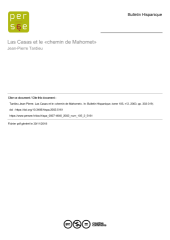 hispa_0007-4640_2003_num_105_2_5161.pdf (1.25 Mo)
Télécharger le fichier
Origin : Publisher files allowed on an open archive