Villes et structures spatiales élémentaires du KwaZulu-Natal
However significant the legacy of former segregational policies in the spatial organisation of South African cities, it is important to include other basic spatial structures that have often been minimised. That is the aim of this paper. The towns in KwaZulu-Natal province provide a strong illustration of this point. The urban entities in the province can be differentiated by several criteria-either historical or contemporary-that are not always related to apartheid policy. The towns are underpinned by basic structures that organise the province. These structures are determined not only by racial discrimination, but also by economics. Recent developments seem to reinforce this trend.
Aunque la herencia de las antiguas políticas segregacionistas sea potente en la estructuración espacial de las ciudades de Africa del Sur, es necesario reconocer otras formas estructurantes fundamentales demasiado desconocidas. Las ciudades de la provincia KwaZulu-Natal se distinguen segun varios criterios, heredados o actuales, que no resultan todos del peso del apartheid. Otros modelos contribuyen para explicar estructuras, incluyendo, en el tiempo largo, lógicas económicas como ligadas a la discriminación racial. Las evoluciones recientes de estos centros urbanos parecen consolidar esta tendencia.
Si puissant que soit l'héritage des anciennes politiques ségrégatives dans la structuration spatiale des villes d'Afrique du Sud, il est nécessaire de reconnaître d'autres formes de structures fondamentales trop longtemps minorées. Les villes de la province du KwaZulu-Natal se différencient selon divers critères, hérités ou contemporains, qui ne découlent pas tous de la chape d'apartheid. D'autres modèles contribuent à rendre compte des structures, incluant, sur le temps long, des logiques autant économiques que liées à la discrimination raciale. Les évolutions récentes de ces centres urbains semblent renforcer cette tendance.
Fichier principal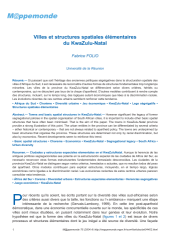 art04402.pdf (334.82 Ko)
Télécharger le fichier
Origin : Publisher files allowed on an open archive