The ambition for European Territorial Cooperation for Indianoceania: towards a community of destiny?
L'ambition de la coopération territoriale européenne pour l'Indianocéanie : vers une communauté de destin ?
European territorial cooperation, known by the acronym Interreg, is deployed in the Indianoceanic area from the outermost regions of Reunion and Mayotte, in order to facilitate their integration into their regional environment. At the rate of the major developments in this cooperation, which are taking shape from the 1990s to the present day and which will be analyzed here through the prism of the European cohesion policy, links are being forged between these French regions and neighboring third countries. Privileged relations are established in particular between the islands of the Indian Ocean Commission, forming the hard core of Indianoceania, as well as with border countries and some states, known as the third circle in the Indian Ocean, with less proven relations. Cooperating, "cum pere", working together, is perceived by all as an imperative necessity in the face of common challenges and issues, despite the constraints and limits inherent in cooperation. Forging together a community of destiny, beyond contradictions and territorial conflicts, should become a common ambition.
La coopération territoriale européenne, connue sous l'acronyme Interreg, se déploie dans l'espace indianocéanique à partir des régions ultrapériphériques de La Réunion et de Mayotte, afin de faciliter leur insertion dans leur environnement régional. Au rythme des grandes évolutions de cette coopération, qui se dessinent des années 1990 à nos jours et qui seront ici analysées au prisme de la politique européenne de cohésion, des liens se tissent entre ces régions françaises et les pays tiers voisins. Des relations privilégiées se nouent en particulier entre les îles de la Commission de l'océan Indien, formant le noyau dur de l'Indianocéanie, ainsi qu'avec des pays bordiers et quelques États, dits du troisième cercle dans l'océan Indien, aux relations moins éprouvées. Coopérer (« cum operare », oeuvrer ensemble) est perçue par tous comme une impérieuse nécessité face aux défis et enjeux communs, en dépit des contraintes et limites inhérentes à la coopération. Forger ensemble une communauté de destin, au-delà des contradictions et des conflits territoriaux, devrait devenir une ambition commune.
Fichier principal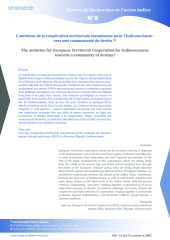 05-Pongerard.pdf (308.21 Ko)
Télécharger le fichier
Origin : Publisher files allowed on an open archive