Preferential trade agreements: what lessons for small island economies in the Indian Ocean ?
Les accords commerciaux préférentiels : quels enseignements pour les petites économies insulaires de l'océan Indien ?
The aim of this paper is to estimate the impact of the regional trade agreements (RTAs) of Small Island Developing States (SIDS) on bilateral trade flows between SIDS and other member countries at the aggregated and disaggregated level over the period 1962–2014. This approach allows us to compare these effects between states in Indian ocean and other SIDS. We focused our estimates on raw materials due to their strong concentration in the trade specialization of most SIDS. We find a heterogeneous effect of these regional trade agreements on intra-zone trade flows for SIDS. These results vary depending on the type of trade agreement (non-reciprocal, reciprocal), the stage of development of trading partners (North-South, South-South), and the products in question.
L'objectif de cet article est d'estimer l'impact des accords commerciaux régionaux (ACR), auxquels participent les Petites économies insulaires en développement (PEID), sur les flux commerciaux bilatéraux des PEID avec les autres États membres à la fois au niveau agrégé et désagrégé. Cela nous permettra d'autant plus de comparer ces effets entre les économies de l'océan Indien et les autres PEID. Les estimations ont été menées sur la période 1962-2014 sur les produits primaires du fait de la forte concentration au niveau de la spécialisation commerciale de la plupart des PEID. Les résultats obtenus mettent en évidence une hétérogénéité des effets de ces accords préférentiels sur le commerce intra-zone des PEID en fonction du type d'accords (nonréciproques, réciproques), de la nature des partenaires (Nord-Sud, Sud-Sud) et des produits.
Fichier principal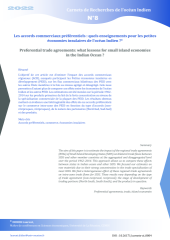 04-Didier.pdf (3.67 Mo)
Télécharger le fichier
Origin : Publisher files allowed on an open archive