L'obligation de « prévention du risque d'attaques de requins » dans l'affaire Bujon — La vision trouble du juge administratif sur la répartition de la charge du risque requin
The Bujon case raised a new question from the standpoint of the French legal order, namely the possibility of administrative liability in the case of a shark attack. Regarding a mutilating shark bite that occurred in the midst of the amplification of the "shark crisis" in 2012, the Bujon case led the French administrative courts to render some highly questionable decisions overall. Firstly, the legal framework of shark-related risk management is seemingly troubled: Although the French administrative supreme court clearly set forth an obligation to reduce these risks in 2013, the lower courts have debated the legal status of a possible obligation to prevent the above-mentioned risks in this case, before which the Council of State remained surprisingly silent even if a reduction-based legal approach toward sharkrelated risks is noticeable in its decision. Secondly, the lower courts made an important mistake regarding the law that was appliable on the day when the attack occurred, and they as well as the Council of State stook to a particularly shallow assessment of shark-related risks that existed at that time. This led to a breakdown of the burden of risks so flawed that any possibility of administrative liability has been unduly excluded by the administrative courts in this case, to the detriment of the complainant. However, the critical analysis of the decisions rendered by the administrative courts in this case allows for the substantial clarification of how the competent public authorities shall implement the obligation to reduce shark-related risks, which is theirs beyond all doubt. This also allows for the specification of the relevant reasoning for assessing the possible liability of public bodies in this legal context.
L'affaire Bujon a posé une question inédite du point de vue de l'ordre juridique français : celle d'une éventuelle responsabilité administrative du fait d'une attaque de requin. Relative à une attaque mutilante survenue en pleine aggravation de la « crise requins » en 2012, l'affaire Bujon a conduit les juridictions administratives françaises à rendre des décisions globalement très contestables. En premier lieu, le cadre juridique de la gestion du risque requin paraît trouble : alors que la juridiction administrative suprême avait clairement consacré une obligation de réduction de ce risque en 2013, les juridictions du fond ont en cette affaire débattu du statut juridique d'une éventuelle obligation de prévention dudit risque, face à laquelle le Conseil d'État est resté étonnamment peu disert même si une approche juridique en termes de réduction du risque requin est perceptible dans son arrêt. En second lieu, les juridictions du fond se sont méprises sur certains éléments du droit applicable le jour de l'attaque, et elles-mêmes ainsi que le Conseil d'État s'en sont tenus à une évaluation particulièrement superficielle du risque requin existant à ce moment. La ventilation de la charge du risque s'en est trouvée faussée, au point que toute possibilité de responsabilité administrative a été indûment exclue par les juridictions administratives en cette affaire, au détriment du requérant. L'analyse critique des décisions rendues par les juridictions administratives en cette affaire, toutefois, permet de préciser substantiellement les modalités de mise en oeuvre, par les autorités publiques compétentes, de l'obligation de réduction du risque requin qui leur incombe de manière certaine. Elle permet également de spécifier le type de raisonnement adéquat pour apprécier l'éventuelle responsabilité des personnes publiques dans ce contexte.
Fichier principal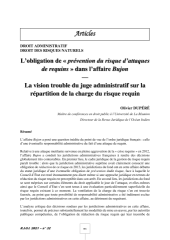 RJOI_32_DUPÉRÉ_1.pdf (2.66 Mo)
Télécharger le fichier
Origin : Publisher files allowed on an open archive