L'interprétation populaire de la maladie et de la guérison à l'île de la Réunion
In the Reunion Island, disease is interpreted most commonly in terms of a logic of projection, which renders its cause irrelevant. Therapy is designed to return the disease to the world from which it originated (nature or the spirit world) through expulsion or exorcism. This way of doing, which reflects a relation with another place and other people, enables a multi-ethnic society, originating as a meeting point for different cultures, to interpret social relations. The identified persecutor is ail the more accused because he is differentiated culturally and socially from the ethnie group of his victim.
En la isla de la Réunion, la interpretación de la enfermedad se hace la mayoría de las veces según una lógica proyectiva, que remite fuera de tema la causa del mal. La terapéutica apunta a restituir ese mal a su universo de origen (la naturaleza o el mundo de los espiritus) por expulsion o exorcisme. Esta manera de actuar, que traduce una relación con el afuera y con lo otro, permite, en una sociedad pluri-étnica nacida del encuentro entre diversas culturas, una lectura de las relaciones sociales. El perseguidor identificado se encuentra tanto más puesto en acusación como se diferencia culturalmente del grupo de pertenencia étnica de su víctima.
A l'île de la Réunion, l'interprétation de la maladie se fait le plus souvent selon une logique projective qui renvoie hors sujet la cause du mal. La thérapeutique vise à restituer ce mal à son univers d'origine (la nature ou le monde des esprits) par expulsion ou exorcisme. Cette manière de faire, qui traduit une relation à Tailleurs et à l'autre, permet, dans une société pluriethnique née de la rencontre entre cultures diverses, une lecture des rapports sociaux. Le persécuteur identifié se trouve d'autant plus mis en accusation qu'il se différencie culturellement et socialement du groupe d'appartenance ethnique de sa victime.
Fichier principal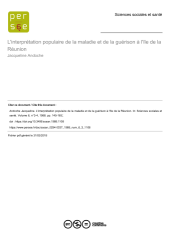 sosan_0294-0337_1988_num_6_3_1108.pdf (1.59 Mo)
Télécharger le fichier
Origin : Publisher files allowed on an open archive