Réflexions sur la non-politique navale de Madagascar : le rôle militaire et stratégique invisible de la Grande Île dans l'océan Indien
The geopolitics of the South Indian Ocean are an ever-increasing source of interest due to the opportunities for cooperation between the Island States and the major powers operating in the area. Furthermore, the States in this zone are being challenged by the need to strengthen their military and maritime capabilities in order to guarantee safety but also the food and energy security within their territories. The said States therefore have an ever-increasing interest in controlling this zone, which is subjected to the hazards of globalization and security-related risks. With a shoreline that is five-thousand kilometres in length, the exclusive economic zone which is more than a million square kilometres, the largest island in the Western Indian Ocean – and also one of the four largest islands in the world – is struggling to find its path regarding maritime strategy in the South West Indian Ocean. This paper seeks to analyse the military and strategic role played by Madagascar in the Indian Ocean through its naval forces.
La géopolitique du sud de l'océan Indien présente une source croissante d'intérêt du fait des opportunités de coopération entre les États insulaires et les grandes puissances qui y sont présentes. Les États de cette zone font par ailleurs face au défi du enforcement de leurs capacités militaires et maritimes afin d'assurer la sureté mais aussi la sécurité alimentaire et énergétique de leurs territoires. Ils ont alors de plus en plus d'intérêt à maîtriser cette zone régionale soumise aux aléas de la mondialisation et à des risques sécuritaires. Avec un littoral long de cinq mille kilomètres, une zone économique exclusive de plus d'un million de kilomètres carré, la plus grande île de la région de l'océan Indien occidental – et l'une des quatre plus grandes îles du monde – peine à trouver sa voie en stratégie maritime dans le sud-ouest de l'océan Indien. Cet article se propose d'analyser le rôle militaire et stratégique de Madagascar dans l'océan Indien à travers ses forces navales.
Fichier principal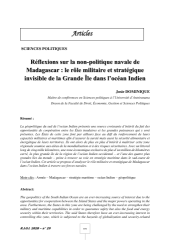 rjoi_29_Dominique1.pdf (491.74 Ko)
Télécharger le fichier
Origin : Publisher files allowed on an open archive