Deadly consequences of buyers' choices in the building sector. Case study of vitreous china
Des conséquences mortelles du choix des acheteurs dans la filière du bâtiment. Étude de cas de la céramique sanitaire
This paper considers the city as a set of materials implemented as a result of choices made by public and private contractors. These largely unconscious choices can have lethal consequences on workers f ar from the building sites themselves, particularly in the mining sector. This research aims to expand the choice of options available to contractors in the construction sector by proposing an ethical criterion based on fatal injuries at work. Two kinds of information were gathered: geographical data on the location of the main extraction sites for the minerals studied; and international legislation on the existing figures and ratified conventions allowing assessment of the risk of fatal injuries by sector of activity and country. The results paint an optimistic picture for the future of such work. On the one hand, several countries can supply and process minerals under excellent conditions of health and safety for workers. On the other hand, the stakeholders interviewed seem open to further commitments in the process towards an ecologically and ethically sustainable city that respects everyone's rights.
Este artículo considera a la ciudad como un conjunto de materiales dispuestos en función de la elección de contratistas públicos y privados. Estas elecciones, en gran parte inconscientes, pueden tener consecuencias letales en las poblaciones de trabajadores alejados de los solares en construcción, especialmente en el sector de la extracción de las materias primas. Este trabajo busca enriquecer las opciones de los contratistas en el sector de la construcción con la propuesta de un criterio ético basado en el riesgo de accidentes laborales mortales en esta industria. La información recopilada se orienta en dos sentidos. En geografía: ¿Dónde se sitúan los principales lugares de extracción de los minerales estudiados? En derecho internacional: ¿Cuáles son las cifras existentes y los convenios ratificados para evaluar el riesgo de accidente mortal por sector de actividad y por país? Los resultados presentados permiten encarar con optimismo el progreso del trabajo. Por un lado existen varios países que pueden proveer los minerales de forma industrial y transformarlos en muy buenas condiciones de seguridad y salud para los trabajadores. Por otra parte, los actores consultados parecen dispuestos a aceptar más compromisos en sus funciones de construcción ecológica y ética de ciudades sostenibles respetando los derechos de todos los seres humanos.
Cet article envisage la ville comme un ensemble de matériaux mis en oeuvre résultant du choix de donneurs d'ordre publics et privés. Ces choix, largement inconscients, peuvent avoir des conséquences létales sur des populations de travailleurs éloignées du lieu du chantier, notamment dans le secteur d'extraction des matières premières. Ce travail vise à enrichir les options de choix des donneurs d'ordre dans le secteur du bâtiment en proposant un critère éthique basé sur le risque d'accidents mortels du travail tout au long de la filière étudiée. Les informations récoltées ont été de deux ordres. En géographie : où sont situés les principaux lieux d'extraction des minerais étudiés ? En droit international : quels sont les chiffres existants et les conventions ratifiées afin d'évaluer le risque d'accident mortel par secteur d'activité et par pays ? Les résultats présentés permettent d'envisager de façon optimiste la suite du travail. D'une part il existe plusieurs pays qui peuvent fournir les minerais de façon industrielle et les transformer dans de très bonnes conditions de sécurité et de santé des travailleurs. D'autre part, les acteurs rencontrés semblent enclins à s'engager plus loin dans la démarche pour construire une ville durable d'un point de vue tant écologique qu'éthique, respectant les droits de tous les hommes.
Fichier principal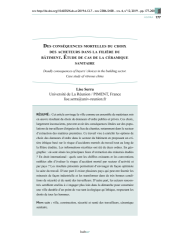 Serra2019-Kultur.pdf (993.94 Ko)
Télécharger le fichier
Origin : Publisher files allowed on an open archive