La cause de l'engagement dans le contrat de cautionnement en droit mauricien
The cause of the contractual commitment is dealt with in articles 1108, 1131, 1132 and 1133 of the Mauritian Civil Code. From these four articles, a distinction may traditionally made between the objective cause and the subjective cause of the contractual commitment. The first represents the immediate and direct reason for the decision to contract and is always the same in the same type of contract. On the other hand, the second is this distant and mediate reason of the contract which consists of personal reasons of the parties to the contract. This article contains an analysis of the subjective cause of the surety bond, which can take two different forms, namely the unlawful subjective cause and the lawful subjective cause.
La cause de l'engagement contractuel est traitée aux articles 1108, 1131, 1132 et 1133 du Code civil mauricien. De ces quatre articles, on déduit traditionnellement une distinction entre la cause objective et la cause subjective de l'engagement contractuel. La première représente la raison immédiate et directe de la décision de contracter et est toujours la même dans un même type de contrat. En revanche, la seconde est cette raison éloignée et médiate du contrat qui consiste en des motifs personnels des parties au contrat. Cet article contient une analyse de la cause subjective du contrat de cautionnement, qui peut prendre deux formes différentes, à savoir la cause subjective illicite et la cause subjective licite.
Fichier principal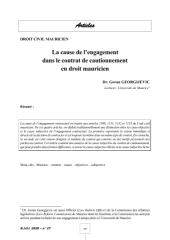 4_goran_georgijevic.pdf (423.32 Ko)
Télécharger le fichier
Origin : Files produced by the author(s)