La Réunion et le mouvement de rétrocession de l'île Maurice à la France (1918-1921)
In keeping with the logic of the political impact of the First World War on the Empires, this article puts into perspective the retrocession movement of Mauritius to France between 1918 and 1921. Influenced by the debates of different peace conferences on the right of peoples to self-determination, the movement is defended by the Mauritian Creoles of French origin who advocate the idea of a return of the former "island of France" to the responsibility of the French colonial authorities. The Mauritian lobbies have been active in enlarging the debates in France and the United Kingdom as well as in their respective Empires. Our purpose therefore is to show the strength of an inter-colonial communication that influences the identity models of the colonies at stake.
Dans la logique des impacts politiques de la Première Guerre mondiale dans les Empires, cet article met en perspective le mouvement de rétrocession de l'île Maurice à la France entre 1918 et 1921. Influencé par les débats des conférences de paix autour du droit des peuples à disposer d'eux-mêmes, le mouvement est défendu par les Créoles mauriciens d'origine française qui avancent l'idée d'un retour de l'ancienne « île de France » sous la responsabilité des autorités coloniales françaises. Les lobbies mauriciens ont été suffisamment actifs pour permettre un élargissement des débats en France et au Royaume-Uni tout comme dans leurs empires respectifs. Il s'agit donc de montrer la force d'une communication intercoloniale qui influe sur les modèles identitaires des colonies concernées.
Fichier principal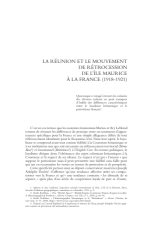 FAGEOL_GMCC_2018.pdf (272.07 Ko)
Télécharger le fichier
Origin : Files produced by the author(s)