Mesure du paradoxe « Privacy/Personalization » dans l'usage des smartphones
This paper is a proposition for the measurement of the « privacy/personalization » paradox in Smartphones usage. By using a structural equation model and Amos, personalization is seen as a latent variable opposing in one hand privacy, dependence and trust (positively), on the other hand, security (negatively). The findings open a door to a better understanding of smarthpones users and theirs behaviors by confronting their increasing addiction to technology and their concerns, if any, on privacy.
L'émergence de nouveaux comportements chez les utilisateurs de Smartphone ou mobinautes est perceptible depuis 2007 avec la croissance régulière du taux d'équipement. Dans ce monde hyper connecté, la frontière entre la vie privée et numérique est de plus en plus ténue et la notion de « privacy » a pris de plus en plus d'importance en étant abordée en recherche de gestion sous différents angles, en particulier Systèmes d'Information (SI) et Digital Marketing (DM). Des auteurs (Sheng et al., 2008 ; Sutanto et al., 2013 ; Miltgen et Lemoine, 2015) ont mis en lumière une ambivalence des utilisateurs entre respect des données personnelles et envie d'échange et de partage d'informations en proposant le concept de « privacy/personalization paradox ». A partir d'un modèle d'équation structurelle, la présente recherche tend à enrichir ce concept mesuré jusqu'à présent à partir de construits isolés et faire émerger ici la notion de personnalisation sous la forme d'un construit latent avec d'un côté, et dans l'ordre, dépendance, privacy et confiance, et de l'autre, sécurité.
Fichier principal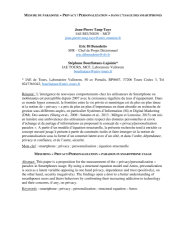 20160422161209_TANG_TAYE_DI_BENEDETTO_BOURLIATAUX_LAJOINIE.pdf (519.13 Ko)
Télécharger le fichier
Origin : Files produced by the author(s)