Proposition d'une échelle de perception de la vie privée sur les smartphones
Perception of privacy on smartphones: a proposed scale Abstract The smartphone takes such a place that it may be seen as an extension of the memory and social life of mobile users called " mobinautes " in France with over 40 million of customers. This interconnection between data exchange and privacy leads to a complex marketing challenge where the borders are not clearly measurable. By using a symbiotic approach the paper develops a measuring scale focused on privacy and highlights the need for a multidimensional view with innovation, utility, dependence and added value as additional constructs. Through a structural model data analysis using SPSS and AMOS the findings suggest some implications in marketing strategy likely to interest network mobile phone providers and further academic research.
Avec plus de 40 millions de smartphones, la France dispose d'un taux d'équipement en augmentation constante et le smartphone est devenu en quelques années un compagnon de la vie courante comme une extension de la mémoire et le garant de la vie sociale du mobinaute. Le but de la recherche exploratoire entreprise ici est de développer une échelle de mesure qui prenne en compte principalement la perception de la vie privée (privacy) sur les smartphones et de la tester via un questionnaire en ligne. L'analyse de données réalisée en utilisant SPSS et AMOS via un modèle structurel sur les 371 réponses obtenues montre qu'une approche multidimensionnelle est nécessaire et met en évidence une relation symbiotique entre le mobinaute et son smartphone maillant les concepts de dépendance, utilité, d'innovation et de valeur ajoutée. Des retombées marketing ainsi que des perspectives de recherche académique plus approfondies sont aussi proposées.
Fichier principal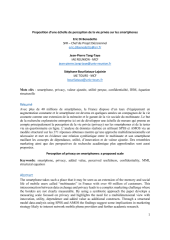 BENEDETTO_TANG-TAYE_BOURLIATAUX-LAJOINIE.pdf (418.75 Ko)
Télécharger le fichier
Origin : Files produced by the author(s)