Publishing against the tide: Isla Negra Editores, an example of pan-Caribbean transL/National solidarity
This article will take as its primary focus the independent publisher Isla Negra Editores, based in San Juan, Puerto Rico. It will start by giving a brief presentation of the publisher's editorial line before taking a closer look at two of its collections, El canon secuestrado and Los nuevos caníbales, to interrogate processes of literary circulation within the Greater Caribbean and reveal attempts at bringing together emerging (or silenced) authors from across the region and beyond. The " new classics " under study, compiled in anthologies or presented in individual formats, will provide a unique context from which to study pan-Caribbean transL/National processes as a tidal movement which anchors the circulation of the region's literary production in specific time zones on the one hand, leading to the [re]formation and deformation of a given canon ; but also, on the other, in specific places often (although not solely) bounded by linguistic proximity, as the editorial connections between Cuba, the Dominican Republic and Puerto Rico testify. Eventually, the publisher's work will be presented as a literary model for transL/National solidarity through which new cartographies of the region's literary circulation emerge. Within this context, translation will be understood in its linguistic sense, entailing cultural, intra and inter-textual shifts and negotiations. But it will also be considered as a relational process that connects the Greater Caribbean with the tout-monde, whilst generating new forms of « minor transnationalisms » (Françoise Lionnet, Shu-mei Shih) in the hope to circumvent traditional routes of canonization.
Este artículo se centra en la editorial independiente Isla Negra Editores, con sede en San Juan (Puerto Rico). Se empezará con una breve presentación de la línea editorial antes de profundizar en dos de sus colecciones: El canon secuestrado y Los nuevos caníbales. Esto con el objetivo de interrogar los procesos de circulación literaria en el Gran Caribe e ilustrar los intentos en reunir a los autores emergentes (o silenciados) de toda la región y más allá. Los "nuevos clásicos" objeto de estudio, compilados en antologías o presentados en formatos individuales, proporcionarán un contexto único para estudiar los procesos transnacionales (transL/nacional) pan-caribeños como un movimiento de marea que, en primer lugar, fija la circulación de la producción literaria de la región en zonas horarias específicas y conduce a la [re]formación y deformación de un canon dado; pero, por otro lado, dicha circulación se da en lugares específicos a menudo (aunque no exclusivamente) limitados por la proximidad lingüística, como lo demuestran las conexiones editoriales entre Cuba, la República Dominicana y Puerto Rico. Finalmente, el trabajo de la editorial se presentará como un modelo literario para la solidaridad transnacional (transL/national solidarity) a través del cual surgen nuevas cartografías de la circulación literaria en la región. En este contexto, la traducción se entenderá en su sentido lingüístico que implica cambios culturales e intra e intertextuales, así como negociaciones. Pero también será considerado como un proceso relacional que conecta al Gran Caribe con el tout-monde, generando nuevas formas de "transnacionalismos menores" (Françoise Lionnet, Shu-mei Shih) con la esperanza de eludir las vías tradicionales de canonización.
Cet article se penche sur la maison d'édition indépendante Isla Negra Editores, installée à San Juan, Porto Rico. Il s'agira dans un premier temps de faire une présentation générale de sa ligne éditoriale avant d'analyser plus en détail deux de ses collections, El canon secuestrado et Los nuevos caníbales, afin de montrer en quoi le travail de cette maison d'édition s'inscrit à contre-courant des pratiques éditoriales observées dans la région mais aussi à l'échelle mondiale. Les « nouveaux classiques » qui émergeront de cette étude, rassemblés sous la forme d'anthologies ou de textes indépendants seront considérés comme des manifestations littéraires transnationales (transL/national) permettant d'envisager la re/dé-formation des canons littéraires préexistants. Le geste traduisant sera considéré à la fois comme transfert linguistique, mais également comme manifestation de pratiques textuelles et éditoriales relationnelles (au sens glissantien). Finalement, les stratégies de publication de l'éditeur seront envisagées telles que des gestes de solidarités transnationales (transL/national solidarity) (principalement entre le Cuba, la République Dominicaine et le Porto Rico, mais pas uniquement), susceptibles de proposer des nouvelles coordonnées géographiques pour la circulation littéraire de (et dans) la région. Ce nouveau maillage, envisagé de manière transversale et non plus verticale, à l'aune des « transnationalismes » en mode mineur proposés par Françoise Lionnet et Shu-mei Shih, permettra d'interroger la possibilité d'une circulation archipélique de la littérature des Grandes Antilles.
Fichier principal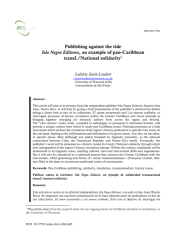 325875-127565-1-PB.pdf (685.15 Ko)
Télécharger le fichier
Origin : Publisher files allowed on an open archive