La structuration lexicale chez les locuteurs réunionnais : spécificités et normes catégorielles
This article deals with the lexical structuring of approximately 150 speakers from Reunion Island. The purpose is to determine whether the lexicon of these speakers is organized into semantic categories including a prototype, and to find out if the latter is specific to Reunion Island. Our first results show that the lexicon of these Reunion Island speakers, like the one of the metropolitan France speakers, seems to structure itself into categories, which tends to indicate that the lexical component is based on a cognitive underlying structure. Categoryspecific standards have been identified, among which a majority of categories with prototypes similar to the categories used in metropolitan France. They form themselves relatively early and remain relatively stable through time. Some categories are also closely related to the cultural context, with a prototype that is specific to Reunion Island.
Cet article traite de la structuration lexicale de150 locuteurs réunionnais en prenant appui sur une étude de D. Dubois (1983) menée en France métropolitaine. Il s'agit de déterminer l'existence de spécificités lexicales réunionnaises et de normes catégorielles locales. Nos premiers résultats montrent que le lexique des locuteurs réunionnais témoins, tout comme celui des locuteurs de la France hexagonale, semble se structurer en catégories, ce qui tend à faire penser que la composante lexicale repose sur une structure sous-jacente cognitive. Des normes catégorielles ont été mises en évidence : elles comprennent une majorité de catégories avec des prototypes similaires à celles produites en métropole. Elles se structurent relativement tôt et conservent une relative stabilité dans le temps. On relève également des catégories en étroite relation avec le contexte culturel avec un prototype spécifiquement réunionnais.
Fichier principal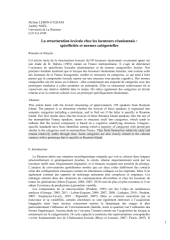 Article CIEC EYQUEM-NOEL2013_hal.pdf (548.02 Ko)
Télécharger le fichier
Origin : Files produced by the author(s)