Following in Defos du Rau's footsteps : Cilaos (1956-2008).
Sur les pas de Jean Defos du Rau : Cilaos (1956-2008)
Return to Cilaos is a geographical echo of the article by Jean Defos du Rau, published in 1956 by the Cahiers d'Outre-Mer. It offers two itineraries. The first pursues an epistemological path with the aim of exposing the geography of one of the islands three cirques found in the hill country of La Reunion as related by Defos du Rau. This is an opportunity to understand Defos du Rau's attentive but often rough insight into the the community of Petits-Blancs des Hauts (Reunion Islanders of white extraction) and the future of their environment. The second itinerary traces the evolution between 1956 and 2008 and will attempt to answer the question posed by Defos du Rau at the end of his article : can we still hope to save the cirque of Cilaos imperilled by its increasing demography ?
Écho géographique à l'article de Jean Defos du Rau publié en 1956 par les Cahiers d'Outre-Mer, ce « Retour à Cilaos » sur les pas du géographe envisage deux itinéraires. Le premier emprunte un sentier épistémologique pour découvrir la géographie d'un « cirque des Hauts de la Réunion » telle que la restitue Defos du Rau. C'est ainsi l'occasion de comprendre le regard attentionné mais souvent rude porté par le géographe sur les Petits-Blancs des Hauts et sur l'avenir de leur espace de vie. Le second chemin mobilise l'évolution intervenue entre 1956 et 2008 pour répondre à l'interrogation posée par Defos du Rau à la fin de son article : peut-on encore espérer sauver le cirque de Cilaos mis en péril par son surpeuplement ?
Fichier principal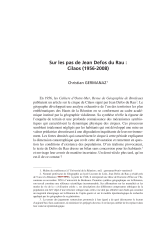 2009.Pas de Defos.pdf (2.24 Mo)
Télécharger le fichier
Origin : Files produced by the author(s)