Permanences bilatérales dans l'aide au développement en Afrique subsaharienne
The African continent has just experienced fifty years of aid for development that began shortly after its different countries had obtained their own independence. This period witnessed the piling up of a formidable amount of budgetary help and various sectorial programmes, with a wealth of projects and micro-projects. Drawing on the hindsight of this last half-century, this paper attempts to focus on the process of French and British bilateral aid within the nebula of this expansion. Particular attention will be paid to the development of the territorial zones, where this financial assistance was granted and the projects that benefited from a large part of it in the context of nationwide frameworks. Bilateral aid is always vulnerable and the source of much controversy and debate. It continues to endure by adjusting to meet changing circumstances and may well find renewed vigour in the context of a background coloured by the rising of new bilateral players.
Le continent africain vient de connaître cinquante années d'aide au développement, entamées au lendemain des indépendances. Elles se sont traduites par un empilement d'aides budgétaires massives et de programmes sectoriels variés, d'une profusion de projets et « micro-projets ». Dans cette véritable nébuleuse du développement, c'est la dynamique de l'aide bilatérale française et britannique que l'on tente de cerner ici, avec le recul de ce demi-siècle, en examinant notamment l'évolution des enveloppes spatiales dans lesquelles cette aide a été concédée et les « projets », inscrits dans un cadre national, qui ont matérialisé une partie importante de cette aide. L'aide bilatérale est toujours fragile, souvent contestée, largement remise en cause, mais elle perdure en s'adaptant et pourrait même trouver une nouvelle dynamique dans un contexte marqué par l'émergence de nouveaux acteurs bilatéraux.
Fichier principal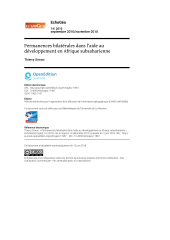 Permanences_bilaterales_aide_dev_afrique_sub.pdf (336.21 Ko)
Télécharger le fichier
Origin : Publisher files allowed on an open archive