Capital social et usage des technologies de l'information et de la communication (TIC) : une analyse par les réseaux sociaux
This paper deals with social capital and ICT use.It is a research which aims to understand the context of ICT use of the main tools supporting relationships. We show in what extend does the social capital influence the use of those ICT tools. To do so, different measures from the Social Network Analysis are used. An exploratory study of 199 students is presented. Communication tools studied are electronic mail, telephone, Skype and FaceBook. Results in progress are presented then discussed. We conclude by future research perspectives.
Cet article traite des liens entre le capital social dans le réseau de travail et l'usage des TIC. Il s'agit d'une recherche qui a pour objectif d'apporter des éléments de réponse sur les différents contextes d'usage des principaux médias de communication actuels et de montrer dans quelle mesure ils sont conditionnés par le capital social d'un individu dans un réseau de travail. Nous faisons l'hypothèse que les usages des différents outils de communication sont conditionnés par le capital social des individus. Pour traiter cette problématique, des données provenant de l'analyse des réseaux sociaux sont utilisées. Une étude exploratoire sur un groupe de 199 étudiants est menée. Les médias étudiés sont la messagerie, le téléphone, Skype et Facebook. Les résultats en cours sont présentés et analysés, avant de conclure sur des perspectives de recherches futures.
Fichier principal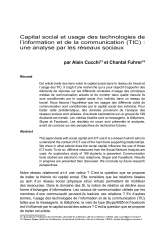 2011_M&A_CetF_hal.pdf (720.89 Ko)
Télécharger le fichier
Origin : Files produced by the author(s)