Stages and Pathways of Development of Nonprofit Organizations: An Integrative Model
Most research suggests that nonprofit organizations (NPOs) should professionalize in order to become more efficient. Yet, a growing body of literature emphasizes the importance of preserving some of their original grassroots culture. Based on a qualitative meta-analysis of 19 in-depth cases from the past decade, our integrative model contributes to this debate in three important ways: first, we suggest that most NPO pathways of development are characterized by the acquisition of a dual nature i.e., a community setting a value-based mission (stage 1) and a professional structure involving formal and centralized coordination aimed at effectiveness (stage 2); second, that this dual system often leads NPOs to an existential crisis characterized by contradiction and indetermination (stage 3); and third, that this indetermination constitutes a window of opportunity for deciders to more deliberately arbitrate the orientation adopted by their NPOs (stage 4). We discuss the role of deciders, beyond institutional pressures, to explain why the nonprofit sector is still relatively diverse. We propose voluntarism and institutional entrepreneurship as important mainstays of nonprofitness.
La plupart des recherches suggèrent que les organisations à but non lucratif (OBNL) doivent se professionnaliser pour devenir plus efficaces. Pourtant, un nombre croissant d'études insiste sur l'importance de préserver une partie de leur culture populaire d'origine. Basé sur une méta analyse qualitative de 19 études de cas approfondies des dernières dix années, notre modèle d'intégration contribue à ce débat de trois façons importantes: premièrement, nous affirmons que la plupart des voies des OBNL en matière de développement sont caractérisées par l'acquisition d'une double nature, c'est-à-dire une communauté définissant une mission reposant sur des valeurs (étape 1) et une structure professionnelle impliquant une coordination formelle et centralisée visant à l'efficacité (phase 2); deuxièmement, que ce double système conduit souvent les OBNL à une crise existentielle caractérisée par des contradictions et une indétermination (étape 3); troisièmement, que cette indétermination constitue une fenêtre d'opportunité pour les décideurs afin d'arbitrer plus délibérément l'orientation adoptée par les OBNL (étape 4). Nous examinons le rôle des décideurs au-delà des pressions institutionnelles dans le but d'expliquer pourquoi le secteur à but non lucratif est encore relativement diversifié. Nous proposons que le volontarisme et l'esprit d'entreprise des institutions soient d'importants piliers du secteur non lucratif.
Fichier principal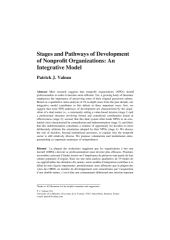 Stages and Pathways of Development of Nonprofit Organizations An Integrative Model_HAL.pdf (403.64 Ko)
Télécharger le fichier
Origin : Files produced by the author(s)