From acclaimed tourist destination to linear spatial construct: The Somin Volcano (Reunion Island). Construction, banalization and heritagization
El sitio turístico privilegiado como objeto espacial lineal: El Somin Volcan (Isla de La Reunión). Fabricación, banalizaciôn y patrimonialización
Le haut lieu touristique comme objet spatial linéaire : le " Somin Volcan" (Île de La Réunion). Fabrication, banalisation et patrimonialisation
The ancient Silk and Salt Routes, the Saint James Way of Compostela, the Trail to Machu Picchu or the sea and air routes traced by the Polynesians and by pioneer aviator Jean Mermoz have been a fundamental part of our collective image of voyaging since time immemorial. Interest in tourist trails or cultural itineraries has risen today as a result of the intense focus put on this type of route by global tourism operators, driven by their need to constantly expand the destination choices they offer. Taking Reunion Island's Somin Volcan as an example, our article examines the spatial practices and representations which initially transform a basic linear geographical structure into an itinerary stamped with its own specific identity and tourist features. The present article draws on the morphology and dynamics of this spatial construct, straddling both the past and the present, to explore the transformation of spatiality linked to the evolution of tourist practices around the Somin Volcan. The transformation process involves three distinct phases that lie between memory and development and will be presented in this article. The first phase involves the construction of the itinerary, based on its sustainability and its properties. The second phase is characterized by the banalization of that itinerary, marked by social postures of cultural appropriation adopted by the inhabitants of the island. In the final phase, the mythological or heritage nature of the Somin Volcan is reconstructed, offering new perspectives to those who visit La Fournaise. Could it be worthwhile to consider using the Somin Volcan as a heuristic example through which we can gain a better understanding of the intrinsic nature of a major linear tourist attraction, and the changes it is subjected to?
Desde hace largo tiempo, la ruta de sal o de seda, la línea celeste de Mermoz o aquella oceánica de los polinesios, el camino a Compostela o al Machu Pijchu participan en el desarrollo del imaginario colectivo vinculado al viaje y al más allá. La recrudescencia de interés por las rutas turísticas y los itinerarios culturales resulta de la atención particular de viajeros del planeta turismo, obsesionados por el renuevo permanente de destinaciones. Tomando como ejemplo el Somin Volcan (Isla de la Reunión), el autor se pregunta cuales son los procesos que están al origen de prácticas y representaciones espaciales que conducen una estructura geográfica elemental a un itinerario identitario, con características turísticas definidas. La morfología y los dinamismos pasados y presentes de este objeto espacial, ayudan a comprender las transformaciones espaciales debidas a la evolución de las prácticas turísticas del Somin Volcan. Tres períodos han sido así identificados. Primeramente la fabricación del itinerario, explicando su perennidad y sus propiedades. Luego la banalización marcada por posturas sociales de apropiación cultural por parte de los isleños. Finalmente, bajo la presión contemporánea de políticas de protección del medio y del patrimonio, la reconfiguración mitológica del volcán, lo que ofrece nuevas perspectivas a los visitantes de la Fournaise ¿Puede este ejemplo tener valor heurístico para aprehender la esencia y la metamorfosis de un alto sitio turístico linerizado?
La route, qu'elle soit du sel ou de la soie, la ligne, céleste de Mermoz ou océanique des Polynésiens, le chemin, qu'il mène à Compostelle ou à Machu Picchu, tous participent depuis très longtemps au développement d'un imaginaire collectif attaché au voyage et à l'ailleurs. Le regain d'intérêt pour les routes touristiques et les itinéraires culturels résulte de l'attention particulière que leur accordent les voyagistes de la planète tourisme, obsédés par le renouvellement permanent de leur offre de destinations. À travers l'exemple du somin Volcan (île de La Réunion), nous nous interrogeons sur les processus à l'origine des pratiques et des représentations spatiales conduisant une structure géographique élémentaire comme la ligne à devenir un itinéraire identitaire aux caractères touristiques affirmés. La morphologie et les dynamiques de cet objet spatial, ancré à la fois dans le passé et le présent, sont interpellées pour aider à comprendre la transformation des spatialités attachées à l'évolution des pratiques touristiques du somin Volcan. Positionnées entre mémoire et développement et guidant le déroulement de notre analyse, trois périodes ont été identifiées dans cette évolution. La première correspond à la fabrication de l'itinéraire ; elle explique sa pérennité et ses propriétés. La banalisation constitue le second temps, marqué par des postures sociales d'appropriation culturelle de la part des habitants de l'île. Sous la pression contemporaine des politiques de protection environnementale et de patrimonialisation, la dernière époque caractérise la reconfiguration de la nature mythologique du somin Volcan, offrant de nouvelles perspectivesaux visiteurs de la Fournaise. Cet exemple, peut-il avoir une valeur heuristique pour appréhender l'essence et les métamorphoses du haut lieu touristique linéarisé ?
Fichier principal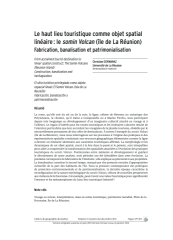 2013.Somin_Volcan.pdf (7.83 Mo)
Télécharger le fichier
Origin : Explicit agreement for this submission