Télédétection des dégâts des cyclones à partir de l'imagerie optique satellitaire HRS/THRS, en vue de leur évaluation économique.
This study is an exploration made in the framework of Interreg ReNovRisk Impact project. Its final goal is to economically assess cyclone damages, and IRD part is to give an understandable data from remote sensing data by remote sensing methods, to economists in order to better typify the spatial footprint of the cyclone. So, we have to find or develop methods to detect and characterize as good as possible damages that have a spatial footprint. It should have to be systematic, automatic and adapted to whole of damages over a large territory. The project focuses on the geographic area of La Réunion and Antananarivo Madagascar region. However, without significative cyclone event in this region during the internship period, we decided to work with Sentinel 2 Pleiades data, on St-Martin/ Sint-Maarten in the Caribbean impacted by the hurricane IRMA 2017 and we just add some considerations on La Réunion impacted by cyclones BERGUITTA and FAKIR on early 2018. A bibliographic synthesis has been done preliminary to guide the exploration. The aim is to prepare the development of an automatic change detection chain for cyclone impacts. That's why we tested index (NDVI, NDWI, Brightness and variants), color composite combinations displays and different GIS (QGis) processing, and with specialized software (ENVI, SNAP, OTB) and processing chain (SEN2COR/SEN2CHAIN). The methodology uses pre and post event satellite images and time series. These data and methodologies should be able to be applied again into other study areas, and establish a first level for damage analysis
Cette étude exploratoire s'inscrit dans le projet Interreg ReNovRisk Impact. Si l'objectif final du projet est l'évaluation économique des dommages générés par les cyclones, le volet accompagné par l'IRD mobilise des données images et méthodes de télédétection, et s'intéresse à la caractérisation de l'empreinte spatiale du passage d'un cyclone. Il s'agit donc de trouver, développer des méthodes pour détecter et caractériser au mieux les dommages qui ont une empreinte spatiale, de façon systématique voir automatique et globale, sur des territoires assez vastes. Le projet a comme aire géographique d'intérêt La Réunion et la région de Antananarivo à Madagascar. Cependant en l'absence d'événement récent couvert par les données optiques cibles du projet (Sentinel 2 et Pléiades) il a été décidé de travailler principalement sur St-Martin/Sint-Maarten dans les Caraïbes fortement touché par IRMA 2017, et d'ajouter quelques compléments sur La Réunion touchée par BERGUITTA et FAKIR en 2018. Un travail de synthèse bibliographique a été réalisé en préliminaire pour tenter de cadrer cette exploration. L'objectif de ce stage étant de guider le développement des chaînes de détection automatique des impacts. Des tests d'indices (NDVI, NDWI, Brillance, et variantes), des affichages en composition colorées et différents traitements à partir de SIG (QGis) ont été effectués. Des logiciels de télédétection (ENVI, SNAP, OTB) et chaîne de traitement (SEN2COR/SEN2CHAIN) ont été utilisés. La méthode exploite des images satellites avant/après événement, et des séries temporelles. Les données et méthodes présentées doivent pouvoir être appliquées et reproduites dans différentes zones des territoires d'études, elles constituent un premier niveau d'analyse possible des dégâts.
Fichier principal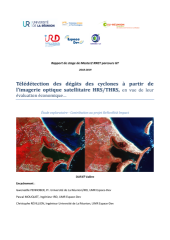 Rapportstage_2019_RNET DUFAY.pdf (8.62 Mo)
Télécharger le fichier
Origin : Files produced by the author(s)
Licence : Public Domain