Proyectos de inmigración africana en el Perú (1860-1871)
In mid-nineteenth century Peru, slave labor force was rapidly replaced by Chinese workers. From that point, and because of the problems that coolies experienced in their adaptation to agricultural work on the coast, a paternalist conception of black people emerged. According to this conception, Africans were more docile nnd hardworking than the Chinese, an idea that led some people to propose once again the possibility of bringing black Africans to Peru, this time as hired workers. This article analyzes the different proposals regarding black immigration made by José Gregario García (1860), Juan Larregle and Aureliano Olano (1869- 1870), and Juan Manuel Noriega (1871). The article will also analyze the public's reaction to those proposals, which brought to mind the blnck slave trade.
A mediados del siglo XIX, la mano de obra esclava se vio reemplazada rápidamente por la china, y fue a partir de ese momento-a raíz de los problemas que tuvieron los culíes para adaptarse al trabajo en la agricultura costera-que surgió una visión paternalista con respecto al negro, visión que lo consideraba más dócil y trabajador que el chino. Por ello, se volvió a p lantear la posibilidad de iniciar una inmigración africana hacia el Perú, que buscaría que el negro llegara como trabajador contratado al país. Así, el presente artículo analiza los distintos proyectos de inmigración negra planteados por José Gregario García (1860), Juan Larregle y Aureliano Olano (1869-1870) y Juan Manuel Noriega (1871), y la reacción de la opinión pública, que veía en estos proyectos reminiscencias de la trata esclavista.
Fichier principal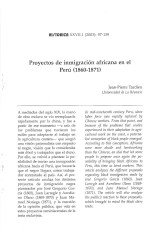 tardieu51.pdf (8.48 Mo)
Télécharger le fichier
Origin : Explicit agreement for this submission