Land use trends on Reunion Island (1989-2002)
Las dinámicas de la ocupacion del suelo en La Reunión (1989-2002)
Les dynamiques d'occupation du sol à la Réunion (1989-2002)
Reunion Island in the Indian Ocean is experiencing rapid socio-economic change. The spatial component of this change was mapped using Spot images between 1989 and 2002. The change detection method used is a comparison of classifications (maximum likelihood and structural analysis). The results confirm a rapid increase in urban spread, a spatial migration of agricultural activities from lowland to upland areas and sharp disparities between micro-regions. The analysis also reveals more pronounced trends in midland and upland areas and, surprisingly, inside the current boundaries of the National Park. These results challenge some regional development assumptions on Reunion Island, particularly the idea that urbanisation is spreading exclusively into agricultural areas.
La isla de La Reunión (Oceano indico) presenta un desarrollo socio-económico rápido desde dos decenios. La componente espacial de estas mutaciones ha sido mapeada por control remoto con imágenes Spot entre 1989 y 2002. El método de detección de los cambios es una comparación de clasificaciones (maximum de verosimilitud y análisis estructural). Los resultados confirman un crecimiento fuerte de los espacios urbanos, una migración espacial de las actividades agrícolas hacia las alturas, así que nítidas disparidades de evolución intra-regionales. El análisis revela también dinámicas mas marcadas en las partes medianas de las pendientes y en los Altos (Hauts) de la isla, y, de manera sorprendente, en el perímetro actual del Parque Nacional. Estos resultados critican parcialmente unos postulados del ordenamiento de la isla, en particular la idea de una ciudad progresando únicamente sobre los espacios agrícolas.
La Réunion (océan Indien) est un espace insulaire en essor socio-économique rapide. La composante spatiale observable de ces mutations a été cartographiée par télédétection à partir d'images Spot sur la période 1989-2002. La méthode de détection des changements mise en oeuvre est une comparaison de classifications (maximum de vraisemblance et analyse structurale). Les résultats obtenus confirment une forte croissance des espaces urbains, une migration spatiale des activités agricoles en altitude ainsi que de nettes disparités intrarégionales en termes d'évolution. L'analyse révèle également des dynamiques plus marquées sur les mi-pentes et les Hauts de l'île, et de façon surprenante dans l'enceinte actuelle du Parc national. Ces résultats remettent partiellement en cause des postulats d'aménagement à la Réunion, en particulier l'idée d'une ville s'étendant exclusivement sur les espaces agricoles.
Fichier principal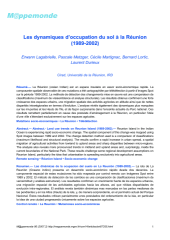 art07205.pdf (1.74 Mo)
Télécharger le fichier
Origin : Publisher files allowed on an open archive