The Rohingya Crisis in Myanmar since 2017: A risk of instability for the Indian Ocean?
La crise des Rohingyas en Birmanie (depuis 2017) : un risque de déséquilibre pour l'océan Indien ?
Several movements and risks have affected and transformed the Indian Ocean in the 21st century – both sea and land areas. Among them the major Rohingya Crisis, a Muslim minority in coastal Rakhine State (or Arakan) persecuted by the country's Buddhist majority, has broken up in 2017 – violences have actually started in 2012. It carries an important risk of instability for the whole Eastern part of the Ocean – and even for the whole Indian Ocean? Leading to one of the worst humanitarian disasters of our time, the forced exodus of almost 720,000 Rohingya people (sources agree about this estimate) towards neighboring Bangladesh in order to escape abuses perpetrated by the Burmese Army (Tatmadaw) is of unprecedented scale. It has indeed dramatically upset both migratory flows and internal geopolitical datas within the Indian Ocean. Considered as « the world's most persecuted minority » in 2019 by the United Nations, the Rohingya people have been systematically discriminated for several decades. Before the 2017 crisis they already were the world's largest stateless community. According to sources their population is estimated between 1.5 and 3 million people.
Parmi les mouvements et les risques affectant et transformant l'océan Indien au XXIe siècle (espaces maritimes comme terrestres), la crise majeure des Rohingyas, une minorité musulmane persécutée dans l'État côtier de Rakhine (ou Arakan) par la majorité bouddhiste de Birmanie, qui a éclaté en 2017 (les violences ont commencé en réalité dès 2012), comporte un risque important de déséquilibre pour toute la partie orientale de l'océan – voire même pour tout l'océan Indien ? À l'origine d'un des pires désastres humanitaires de notre époque, l'exode forcé de près de 720 000 Rohingyas (les sources s'accordent sur cette estimation) vers le Bangladesh voisin afin d'échapper aux exactions perpétrées par l'armée birmane (Tatmadaw), d'une ampleur sans précédent, bouleverse en effet tout à la fois les flux migratoires et les données géopolitiques internes de l'océan Indien de manière dramatique. Considérés comme « la minorité la plus persécutée au monde » en 2019 par l'ONU, les Rohingyas sont victimes depuis plusieurs décennies d'une discrimination systématique. Ils formaient déjà avant la crise de 2017 la plus grande communauté apatride au monde, dont la population est estimée entre 1,5 et 3 millions de personnes selon les sources.
Fichier principal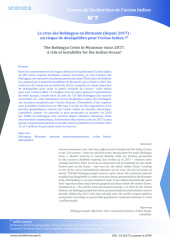 09-Lorin.pdf (236.18 Ko)
Télécharger le fichier
Origin : Publisher files allowed on an open archive