Pluviométrie à l'île de la Réunion: des travaux de J. Defos du Rau (1960) à nos jours
In the very first geographic study of Reunion island, Defos du Rau's study pointed out two rainbelts, defined by the 2000 mm per annum mark. The windward region includes the eastern side, the middle cirques, and a some of the western slopes. Takamaka owns the highest recorded rainfall while the la Fournaise's eastern slopes rains were not studied thoroughly. At present, the map takes into account the yearly median. The windward region has been restricted to the eastern part, plus the cirque of Salazie. As for the rainfall peaks they are actually recorded along the eastern slopes of the la Fournaise volcano. On the other land, the areas registering more than 2000 mm/year are quite limited. Similarly, the high mountains (over 2500 m higher) receive less than 1 000 mm per year.
La première étude de géographie de l'île de la Réunion (Defos du Rau, 1 960) propose une carte des pluies avec deux régions, au vent et sous le vent, de part et d'autre de l'isohyète moyenne annuelle 2000 mm. La région au vent correspond à la façade orientale de nie avec un pôle de la pluie situé à Takamaka ; la région sous le vent, à la façade occidentale. Les pluies du massif volcanique de la Fournaise n'étaient pas mesurées. Aujourd'hui, la carte des médianes annuelles de pluie fait apparaître une région au vent réduite, avec un maximum sur les pentes moyennes orientales de la Fournaise. Ailleurs les pluies supérieures à 2000 mm/an sont rares ; les hautes terres, au- dessus de 2500 m, reçoivent moins de 1000 mm/an.
Fichier principal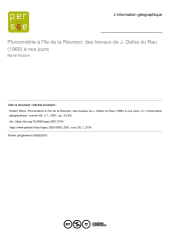 ingeo_0020-0093_2001_num_65_1_2734.pdf (1.74 Mo)
Télécharger le fichier
Origin : Publisher files allowed on an open archive