Armée et constitutions : le cas de Madagascar
Constitutional and military history have taken a new turn since the militarization of the Malagasy political system in 1971. The ever-increasing role of the military elite has been characterized by a lack of institutional legitimacy, which has led the said elite to seek out constitutional legitimacy. This issue of legitimacy has taken precedence over constitutional legality throughout history. Indeed, in order to strengthen its power, the military developed some texts meant to complete or supersede the Supreme Law. Furthermore, the military has been the vector of the so-called "national" legitimacy upon which those holding the reins of political power have relied. Power sharing between the civil and military elites has occurred through the division of roles and responsibilities regarding defense and security. This is in line with the desire to limit the presence of the armed forces in decision-making positions. The gradual stepping aside of these armed forces has come about due to a reform within the sector but above all due to the development of constitutional and legal rules intended to strengthen the role of the civil authorities in defense management. This paper seeks to demonstrate the specific trajectory of the Malagasy military elite, particularly with respect to the visibility of Asian and African armed forces on the political stage but also with respect to the conquest of State power. This study thereby focuses on the military's status within the Malagasy State, particularly from a constitutional perspective. furthermore, questions arise as to the constitutional means to limit praetorianism. Ultimately, this raises questions about the implementation and consolidation of democracy in a hybrid State led by patrimonial democrats.
L'histoire des constitutions et de l'institution militaire a pris une nouvelle tournure avec la militarisation du système politique malgache à partir de 1972. Le rôle sans cesse croissant des élites militaires se caractérisa par une déficience de légitimité institutionnelle, qui emmena ces dernières à la recherche d'une légitimité constitutionnelle. Cette question de légitimité prendra tout au long de l'histoire le pas sur la légalité constitutionnelle. En effet, afin de consolider son pouvoir, l'institution militaire élaborera des textes qui complètent voire se substituent à la loi fondamentale. Par ailleurs, l'institution militaire sera l'instrument d'une nouvelle légitimité dite nationale sur laquelle s'appuieront les tenants du pouvoir. Le partage du pouvoir entre les élites civiles et les élites militaires se manifestera par une répartition des rôles et responsabilités en matière de défense et de sécurité. Cela s'inscrit dans une volonté de limiter la présence des « hommes en armes » aux postes de décision. L'effacement progressif de ces derniers sera rendu possible par une réforme du secteur mais surtout par l'élaboration de dispositions constitutionnelles et légales confortant les autorités civiles dans la gestion de la défense. Cette contribution tâchera de montrer la trajectoire particulière des élites martiales malgaches notamment au regard de la visibilité d'autres militaires en Asie ou en Afrique sur la scène politique ou dans la conquête de l'État. Il s'agira de s'intéresser à la place de l'institution militaire au sein de l'État notamment d'un point de vue constitutionnel. Par ailleurs, il conviendra également de s'interroger sur les voies constitutionnelles pouvant limiter le prétorianisme. En définitive, cela pose la question de l'implémentation et de la consolidation de la démocratie dans un État hybride dirigé par des démocrates patrimoniaux.
Fichier principal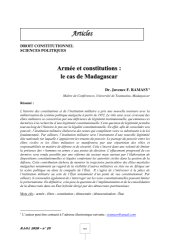 rjoi_29_Ramasy1.pdf (391.73 Ko)
Télécharger le fichier
Origin : Publisher files allowed on an open archive