Un panorama juridique sur le statut des Îles Éparses du Canal du Mozambique
Considered geographically as mere scraps of emerged land scattered around the globe, islands are of great importance in the field of International Law of the Sea. Four of them – known as the Scattered Islands of the Mozambique Channel – are subject to highly politicized debate. The said debate concerns the dispute between Madagascar and France over sovereignty and public policy as to management of these islands. Going beyond these political debates, the legal aspect of the status of the Scattered Islands is interesting due to the circumstances regarding the decolonization process but also due to attempts in favour of conciliation following the claims of Madagascar in the aftermath of its independence. This paper seeks to define a legal analysis of the various contentions that may be evoked in the context of the dispute between France and Madagascar but also define the prospect of a way out of this dispute.
N'étant considérées géographiquement que comme des petits bouts de terre éparpillés sur le globe terrestre, les îles, en droit international de la mer, revêtent une importance considérable. Quatre d'entre eux – que l'on appelle les Îles Éparses du Canal du Mozambique – font l'objet de débats hautement politiques. Ces derniers portent sur le désaccord entre Madagascar et la France quant à la souveraineté et au mode de gestion de ces îles. Au-delà de ces débats politiques, l'aspect juridique du statut des Îles Éparses du Canal de Mozambique est intéressante compte tenu des circonstances relatives à la procédure de décolonisation mais aussi les tentatives de conciliation qui ont suivi la revendication malgache au lendemain de son indépendance. Cet article a pour but d'établir une analyse juridique des différentes thèses pouvant être invoquées dans le cadre du différend franco-malgache mais aussi d'établir une perspective quant à l'issue de celui-ci.
Fichier principal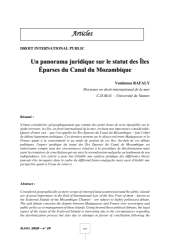 rjoi_29_Rafaly1.pdf (517.71 Ko)
Télécharger le fichier
Origin : Publisher files allowed on an open archive