Les enjeux du concept de vote blanc pour le régime démocratique malgache — Hypothèse sur les élections présidentielles de 2018
The blank vote is an electoral behavior which is gradually becoming part of today's democratic societies. The spirit of the blank vote has long been the subject of doctrinal controversy, and its recognition in votes cast in national elections is found in very few democratic systems. Moreover, it has several functions ("sanction-vote", indicator of social stability, civic act), aiming for a rebalancing of relations between the political class and the class of the masses. But the dominant aspect found in the doctrines that are favorable to it remains the challenge to the quality of the electoral offer. The blank vote raises various legal, political and social problems. It is at the center of public life and should be seen as guardian of social peace, justice and human rights which are the basis of contemporary democracy. However, its unregulated use could be a deadlock for the institutional functioning of the State.
Le vote blanc est un comportement électoral qui s'insère progressivement dans les sociétés démocratiques actuelles. L'esprit du vote blanc a longtemps fait l'objet de controverses doctrinales, et sa reconnaissance en suffrage exprimé durant les élections nationales ne se constate que dans très peu de sociétés démocratiques. De plus, il revêt plusieurs facettes (« vote-sanction », indicateur de stabilité sociale, acte citoyen), tendant vers un rééquilibrage des relations entre la classe politique et la classe populaire. Mais l'aspect dominant que l'on retrouve dans les doctrines qui lui sont favorables reste la contestation de la qualité de l'offre électorale. Le vote blanc soulève différents problèmes tant juridiques que politiques et sociaux. Il est au centre de la vie publique et devrait être considéré comme gardien de la paix sociale, de la Justice et des droits de l'Homme qui fondent la Démocratie contemporaine. Toutefois, l'utilisation non-encadrée du vote blanc risque effectivement de bloquer le fonctionnement institutionnel de l'Etat.
Fichier principal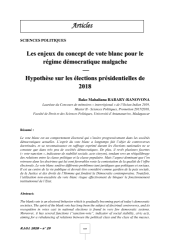 rjoi_29_Rabary-Ranovona1.pdf (696.09 Ko)
Télécharger le fichier
Origin : Publisher files allowed on an open archive