Personal status and local Marriage in Mayotte. Which visibility for local law?
Statut personnel et union de droit local à Mayotte. Quelle visibilité pour le droit local ?
Changes in the law in Mayotte have led to the application of the civil code law to marriages between persons of personal status. These weddings are celebrated by the civil officer in a manner very similar to those of marriages between persons of civil law status. Article 9 of Ordinance n°2010-590 of June 3, 2010 goes even further and makes the choice of civil code law to govern both the conditions of validity of the marriage and the question of its dissolution by divorce. Thus, the disappearance of the matrimonial scene of emblematic figures of local law such as the Cadi or the tutor wali openly raises the question of the loss of visibility of local law within the Mahorese society. In addition, the prohibition of traditional institutions such as repudiation and polygamy contributes to this erasure of local matrimonial law. This study tends to return the legal data and tries to nuance this finding.
Les évolutions du droit à Mayotte ont conduit à l'application du droit commun aux mariages entre personnes de droit local. Ces unions sont célébrées par l'officier d'état civil de droit commun selon des modalités très proches de celles des mariages entre personnes de statut civil de droit commun. L'article 9 de l'ordonnance n°2010-590 du 3 juin 2010 va encore plus loin et fait le choix du droit commun pour régir tant les conditions de validité de l'union que la question de sa dissolution par divorce. Ainsi, la disparition de la scène matrimoniale de figures emblématiques du droit local comme le Cadi ou le tuteur wali pose ouvertement la question de la perte de visibilité du droit local au sein de la société mahoraise. En outre, la prohibition d'institutions traditionnelles comme la répudiation et la polygamie concourt à cet effacement du droit local matrimonial. La présente étude tend à restituer les données juridiques et essaie de nuancer ce constat.
Fichier principal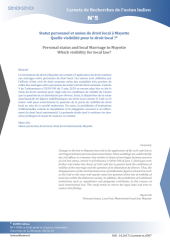 07-Kuhn.pdf (316.17 Ko)
Télécharger le fichier
Origin : Publisher files allowed on an open archive