L'implantation des Cliniques Juridiques à Madagascar
The "Trano Aro Zo (TAZ)" legal clinics are considered "one of the flagshipactivities of the United Nations Development Program (UNDP) in the field of human rights". Their inceptionin some regions of Madagascar has enableda mechanismfor promoting access to law and justicefor most citizens to become operationalfor overtwelve years. It is true that theirprimarymission is to reconcile the two opposing parties who do not wishtoor cannotinitiatecourtproceedings, to enable reconciliation betweenlitigantsand the administration of justice, but one of theirmissionsis also and above all to promote mechanisms in favour ofaccesstojustice by guaranteeing citizens' access to the law. As their name shows[ed.: literally, The House in whichLaw is Protected], the TAZ legal clinics have been set upin order to protect and promote rights. They are "a kind of primitive justice systemandappear to be highly compatible with [Malagasy's]reality". The purpose here is to analyzethe efficiency of the TAZ legal clinics'actionssince their inception.
Les cliniques juridiques « Trano Aro Zo (TAZ) »1 sont considérées comme « l'une des activités phares du Programme des Nations Unies pour le développement (PNUD) dans le domaine des droits humains » 2. Leur instauration dans quelques régions de Madagascar a permis, depuis plus de douze ans, de rendre opérationnel, au profit de la plupart des citoyens, un mécanisme de promotion de l'accès au droit et partant de l'accès à la justice. Certes, leur mission principale est de réconcilier deux parties en conflit qui ne veulent pas ou ne peuvent pas engager des procédures judiciaires, de permettre une réconciliation entre les justiciables et la justice, mais l'un des objectifs aussi est surtout de promouvoir les mécanismes d'accès à la justice par la garantie de l'accès des citoyens au droit. Ainsi que leur dénomination l'indique, les cliniques juridiques TAZ ont été mises en place dans le but de défendre et de valoriser les Droits. Elles constituent « une sorte de justice primitive et semblent très compatible à la réalité »3. Il s'agit ici de procéder à une analyse de l'efficacité des interventions effectuées par les cliniques juridiques Trano Aro Zo depuis leur création.
Fichier principal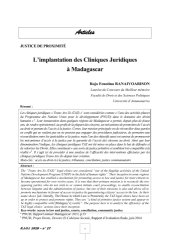 1_rojo_fenotina_ranaivoarison.pdf (326.94 Ko)
Télécharger le fichier
Origin : Publisher files allowed on an open archive