HR management in nonprofits : activist values put to the test of professionalization
Función de recursos humanos en las asociaciones : los valores militantes al examen de la profesionalización
La fonction RH dans les associations : les valeurs militantes à l'épreuve de la professionnalisation
In France today, there are 1.1 million nonprofits employing 1.9 million full- and part-time workers. Using data from 140 nonprofit organizations, this article examines how HR management is formed in this context, taking into account the kinds of organizations and values found in the voluntary sector. Even though the introduction of formal HR practices remains partly tied to the number of employees, the findings show that it also comes from the organization's strategic choices. The recruitment of a managing director by the board appears as the main trigger for a process of professionalization that leads to hiring an HR manager. More effective and consequently more in line with the expectations of government and funding partners, these new HR practices are however accompanied by a decline in activism and community values.
La Francia cuenta actualmente con 1,1 millones de asociaciones empleando 1,9 millones de trabajadores a tiempo completo o parcial. A partir de los datos de 140 de entre ellas, este artículo analiza la manera en que la función de los "Recursos humanos" aparece en este contexto, teniendo en cuenta los actores y los valores presentes. Los resultados muestran que aunque la estructuración de las prácticas de Recursos Humanos queda en parte ligada al tamaño de los efectivos asalariados, ella deriva igualmente de las decisiones estratégicas de la asociación. El reclutamiento, por el consejo de administración, de un director gestionario aparece como el principal detonador de un proceso de profesionalización antecediendo la llegada de un Director de Recursos Humanos. Estas nuevas prácticas de Recursos Humanos son ciertamente mas eficaces y más conformes a las expectativas de los poderes públicos y de los financieros, pero ellas se acompañan sin embargo de la decadencia de la militancia y de los valores comunitarios.
La France compte aujourd'hui 1,1million d'associations, employant 1,9million de salariés à temps complet ou partiel. A partir des données de cent quarante d'entre elles, cet article analyse la façon dont la fonction ressources humaines (RH) émerge dans ce contexte, compte tenu des acteurs et des valeurs en présence. Les résultats montrent que même si la structuration des pratiques RH reste en partie liée à la taille des effectifs salariés, elle découle également des choix stratégiques de l'association. Le recrutement par le conseil d'administration d'un directeur gestionnaire apparaît comme le principal déclencheur d'un processus de professionnalisation précédant l'arrivée d'un directeur des ressources humaines (DRH). Plus efficaces et, ce faisant, plus conformes aux attentes des pouvoirs publics et des financeurs, ces nouvelles pratiques RH s'accompagnent cependant d'un déclin du militantisme et des valeurs communautaires.
Fichier principal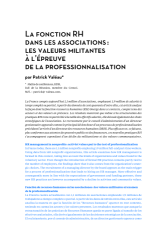 La fonction RH dans les associations les valeurs militantes à l'épreuve de la professionnalisation_HAL.pdf (358.3 Ko)
Télécharger le fichier
Origin : Files produced by the author(s)