Emergence d'une identité indien-océanique, leviers et perspectives
Emergence of an identity-Indian Ocean, what challenges? What are the challenges in the goal of a indian-ocean identity needed to develop a common regional identity and visibility in this area internationally emerge. The Indian Ocean is a cultural center of great intensity that the creative potential will be expressed with all the more force it will be a recognition and mutual enrichment. The logic of intercultural encounters, raise the question of identity as the first, it is seen in a dynamic built on the development of specific and sharing. The objective is to encourage the creation to make it visible and useful internally within populations of the five IOC Member States as well as internationally. Visibility will show to the world the characteristics of this area and thus open global markets thus perpetuating its development over longer perspectives. Strengthening cultural axis and development, built from a policy based on a regional cultural strategy linked with the economy expected to articulate the promotional techniques of this emerging indian-ocean regional unit.
Emergence d'une identité Indian-Océanique, quels défis ? Quels sont les défis à relever dans l'objectif de faire émerger une identité indian-océanique nécessaire au développement d'une appartenance régionale commune et d'une meilleure visibilité de cette région à l'international. L'océan Indien constitue un espace culturel d'une grande intensité dont le potentiel de créativité s'exprimera avec d'autant plus de force qu'il sera l'objet d'une reconnaissance et d'un enrichissement mutuel. Les logiques de rencontres interculturelles, posent la question de l'identité comme première, celle-ci est perçue dans une dynamique construite sur la valorisation des spécificités et leur partage. L'objectif est de susciter la création pour la rendre visible et utile, en interne au sein des populations des cinq Etats membres de la COI, comme au niveau international. Une meilleure visibilité permettra de montrer au reste du monde les spécificités de cet espace et donc de l'ouvrir sur des marchés mondiaux en pérennisant ainsi son développement sur des perspectives plus longues. Le renforcement de l'axe culture et développement, construit à partir d'une politique s'appuyant sur une stratégie régionale culturelle en lien avec l'économie devrait permettre d'articuler les leviers promotionnels de cette unité régionale indian-océanique émergente.
Fichier principal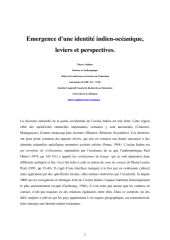 C4 Emergence d'une identité indien-océanique, leviers et perspectives COI.pdf (354.6 Ko)
Télécharger le fichier
Origin : Explicit agreement for this submission