Le refuge huguenot dans "Le Vallon aérien" de Jean-Baptiste Mosneron de Launay
Bei «Le Vallon aérien» (Das Tal in den Lüften) von Jean-Baptiste Mosneron de Launay (1738-1830) handelt es sich um eine utopische Erzählung. Ein Entdecker gelangt mit einem Heißluftballon mitten in einen hugenottischen Fluchtort, der nach der Widerrufung des Edikts von Nantes und den folgenden Verfolgungen in den Pyrenäen gegründet worden war. Das Glück dieser Gemeinschaft steht im Widerspruch zu den Qualen der Geschichte. Der Verfasser zeigt also eine ganz andere Sicht der Protestanten als die, die von der romantischen und antirevolutionären Geschichtsphilosophie verbreitet wurde, denn er sieht in den Protestanten die friedlichen Vorläufer der Aufklärung. Die Anleihen bei Voltaire und seinem Eldorado weisen deutlich auf die Verbindung dieser Utopie des Fluchtortes zur Aufklärung. Dabei zeichnet Mosneron diesen idealisierten Ort nach den ästhetischen Kriterien des Sublimität und erneuert somit die kodifizierte Form der Utopie.
Le Vallon aérien by Jean-Baptiste Mosneron de Launay (1738-1830) is an utopian story. Thanks to his hot-air balloon, an explorer arrives in a Huguenot refuge, established in the Pyrenees after the Revocation of the Edict of Nantes and the subsequent persecutions. The happiness of this community is contrasted with the torments of history. Thus the author offers a view of Protestants quite different from that propounded by the philosophy underlying Romantic and counter-revolutionary history: he sees them as peaceful precursors of the Enlightenment. The borrowings he makes from Voltaire and his El Dorado reveals all that this Utopian refuge owes to Enlightenment philosophy. However, in representing this ideal place according to the aesthetic criteria of the sublime, Mosneron renews the codified formulation of Utopia.
Le Vallon aérien de Jean-Baptiste Mosneron de Launay (1738-1830) est un récit utopique. Un explorateur parvient grâce à sa montgolfière au cœur d'un refuge huguenot, fondé dans les Pyrénées à la suite de la Révocation de l'Édit de Nantes et des persécutions qui lui succédèrent. La félicité de cette communauté s'oppose aux tourments de l'histoire. L'auteur présente donc des protestants une vision bien différente de celle que propage la philosophie de l'histoire romantique et contre-révolutionnaire: il voit en eux de pacifiques précurseurs des Lumières. Les emprunts à Voltaire et à son Eldorado ne permettent pas d'ignorer ce que cette utopie du refuge doit à la philosophie des Lumières. Mais, en représentant ce lieu idéal selon les critères esthétiques du sublime, Mosneron renouvelle la formule codifiée de l'utopie.
Fichier principal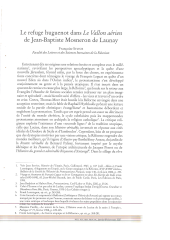 Sylvos_2007_Vallon aérien.pdf (5.14 Mo)
Télécharger le fichier
Origin : Explicit agreement for this submission