Réflexions libres autour de la répression de l'instigation : L'éclairage du droit pénal français à l'aube d'une réforme du Code pénal mauricien
The punishment of instigators in French penal law is hardly legible. It relies alternately on the theory of complicity and on autonomous offenses of provocation for authors of intellectual crime. This article advocates for the establishment of a coherent status of the instigator: he could thus be punished even in the absence of a result and independently from a retaliation of the provoked. The preparation of a reform of the Mauritian Penal Code appeared as an opportunity to compare the solutions retained in the matters of instigation in the two repressive systems. Mauritian law could draw lessons from the French reforms and from the analysis of said reforms by the doctrine to shape its own penal response to instigation.
La répression de l'instigateur en droit pénal français est éclatée et peu lisible. Cette répression s'opère tour à tour par le biais de la théorie de complicité, via des délits autonomes de provocation, au titre d'auteur intellectuel d'une infraction. Cet article plaide pour la construction d'un statut de l'instigateur cohérent : l'instigateur pourrait dès lors être réprimé indépendamment de la survenance d'un résultat et surtout indépendamment d'un passage à l'acte de celui qui est provoqué. La préparation d'une réforme du Code pénal mauricien semblait une occasion intéressante de comparer les solutions retenues en matière d'instigation dans les deux systèmes répressifs pour proposer au droit mauricien de tirer des enseignements des réformes françaises et de leur analyse par la doctrine pour façonner sa propre réponse pénale aux comportements d'instigation.
Fichier principal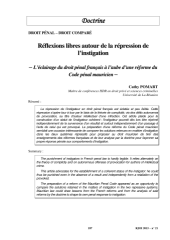 rjoi_21_pomart.pdf (569.7 Ko)
Télécharger le fichier
Origin : Explicit agreement for this submission