Quand l'environnement relationnel contribue à la compréhension du burnout
This research aims to study the relationship between perceived relational environment and the burnout which can be considered as a kind of psychological break. Relational environment includes relations towards the organization, relations towards circle of acquaintances and relations towards the couple job/family. The three dimensions of Maslach burnout are used: exhaustion, cynicism and inefficacy. A sample of 639 nurses is analysed. The exploratory study presents a structural model which is tested. Results show significant ties between relational environment and the burnout, with different degree of signification. Main results are analysed before we conclude with future research perspective.
Cette recherche a pour objectif d'étudier les liens entre l'environnement relationnel perçu d'un individu et une forme de rupture psychologique qu'est l'épuisement professionnel ou burnout. L'environnement relationnel est abordé sous l'angle des relations avec l'organisation, des relations avec l'entourage ainsi que des relations avec le couple travail-famille. L'épuisement professionnel, au sens de Maslach, comprend l'assèchement émotionnel, le cynisme et l'efficacité professionnelle. Pour traiter cette problématique, un échantillon de 639 infirmières est analysé. L'étude exploratoire présente un modèle structurel qui est testé. Les résultats montrent l'existence de liens significatifs entre l'environnement relationnel et l'épuisement professionnel, avec des facteurs explicatifs différents. Les principaux résultats sont analysés avant de conclure sur des pistes de recherches futures.
Fichier principal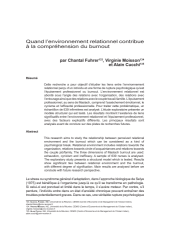 2011_M&A_FetMetC_hal.pdf (781.59 Ko)
Télécharger le fichier
Origin : Files produced by the author(s)