Unités Paysagères et services écosystémiques, l'exemple des récifs coralliens
Ecosystem services are a recent way of thinking the world through the prism of economics. They drive to a better integration of the environment into economic and development decision making. They are subject to increasing demand, including the coral reef ecosystem management. For valuing coral reef ecosystem services, the more common way is to go through the total economic value. This total value is applied to the whole coral reef capital considered as a black box, regardless of its heterogeneity in terms of geomorphology, habitats, biotic communities and uses. This functional isotropy of this natural capital is a big constraint for integrating the valuation of ecosystem services into the local governance. The solution needs a cross cutting point of view, mixing economics and geography. Thus the reef is not only a natural capital but also a landscape composed of associated resources spaces generating specific ecosystem services. But the finance orientated trend for valuing the environment makes more and more weak this cross cutting view and drives to a deadlock. A better economic valuation of the coral reef ecosystem services needs to bridge urgently the functional ecosystem and its value. Linking the landscape and the ecosystem services could be the first step of this process.
Les services écosystémiques sont une manière récente de voir le monde sous le prisme de l'économie. Facilitant l'intégration de l'environnement dans la décision publique, ils font l'objet d'une demande grandissante. Les récifs coralliens n'échappent pas à cette évolution. L'évaluation économique des services écosystémiques qu'ils génèrent se fait sous la forme d'une valeur économique totale, qu'on applique à l'ensemble d'un récif donné, considéré comme un capital naturel, sans tenir compte de son hétérogénéité en matière de géomorphologie, d'habitats, de biocénoses et d'usages. Cette isotropie fonctionnelle du capital naturel récif, perçu comme une boîte noire, constitue une puissante contrainte pour intégrer l'évaluation des services écosystémiques qu'il génère à la gouvernance locale. La solution consiste à croiser cette conception économique à une conception géographique considérant le récif comme un paysage, composé d'espaces ressources générant des services écosystémiques spécifiques. Mais cette vision pluridisciplinaire se heurte à la financiarisation grandissante de l'évaluation économique des services écosystémiques. Cette évolution ne peut conduire qu'à une impasse, car elle consacre le découplage entre l'écosystème et sa valeur. Il est donc urgent de mieux intégrer le paysage dans l'évaluation des services écosystémiques.
Fichier principal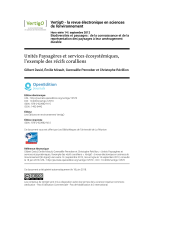 Unités_paysageres_services_ecosystemiques.pdf (479.25 Ko)
Télécharger le fichier
Origin : Publisher files allowed on an open archive