Élaboration d'un protocole de suivi de la fréquentation au sein de la Réserve naturelle marine de la Réunion, France, Océan Indien
The Natural Marine Reserve of La Reunion (RNMR) was established in 2007 along a weakened fringing reef which extends over forty kilometers along the western coast. These last decades, this latter was submitted to a rapid and dense urbanization, namely due to its attractive seaside assets. Simultaneously, increasing coastal activity and emergence of new practices put new issues forward, such as potential impacts on the environment, and potential conflicts that may occur. Besides, Marine Protected Areas (MPAs) effectiveness cannot longer be evaluated from biological markers only, and socio-economical parameters tend to be taken into account by high national bodies (French Agency for MPA) and managers during management plan development. From 2010, a vast French national campaign was launched to assess socio-economical needs in terms of markers, and to develop a common methodological framework for marine and coastal uses monitoring. Through this study, the RNMR equipped themselves with a methodological and operational framework for uses monitoring in order to develop and integrate markers to their management plans, permitting the measurement of management effectiveness. Between January and July 2010, 14 uses including swimming, beach going, water sports and fishing have been monitored using an ultra-light aircraft and a camera .48 flights were planned over this period according to a temporal stratification (Summer/Winter, Holidays/School days, week/weekend and morning/afternoon). Data were integrated to a Geographic Information Base offering a range of spatial analysis and statistics tools. Results show a heterogeneous users distribution in time and space which peaks can reach nearly 10,000 users. Half of users remains concentrated on a small portion of the coastline equivalent to 8% of the total coastal length of 44 kilometers and spread over four main sites (Boucan-Canot, Ermitage, La Saline and Etang-Salé) which correspond to the sites the most equipped with amenities (coral-free swimming areas, coral sand) and services (parks, bars, lifeguards). In addition, this uses' monitoring protocol has many potentialities in terms of management and scientific accumulation of learning outcomes, which are set forth in discussion.
Créée en 2007, La Réserve Naturelle Marine de La Réunion (RNMR) vise à préserver un récif frangeant qui s'étend sur près d'une quarantaine de kilomètres de linéaire côtier sur la façade occidentale de l'île. Rendue fortement attractive par ses nombreux atouts balnéaires, cette côte a été en proie à une urbanisation croissante au cours des dernières décennies. De façon concomitante, l'accroissement de la fréquentation et l'apparition de nouvelles pratiques nautiques ont alimenté la source potentielle d'impacts sur le milieu, ainsi que les risques de conflits. En vue d'apporter un meilleur éclairage sur ces problématiques et parce que la mesure de l'efficacité d'une AMP ne peut désormais plus se cantonner aux seuls indicateurs biologiques du milieu, une vaste campagne nationale visant à développer un cadre méthodologique commun de mesure de la fréquentation maritime a été initiée (Agence des Aires Marines Protégées). C'est dans ce contexte et par le biais de cette étude que la RNMR se pourvoit dès 2010 d'un cadre méthodologique et opérationnel de suivi de la fréquentation afin de développer et d'intégrer à leurs plans de gestion des indicateurs socio-économiques qui serviront, entre autres, à mesurer l'efficacité de la gestion. Entre janvier et juillet 2010, pas moins de 10 catégories d'usages dont les activités de baignade, plage, sports de glisse et pêche ont fait l'objet d'un suivi depuis un Ultra-Léger-Motorisé et à l'aide d'un appareil photographique. 48 vols ont été répartis sur cette période selon une stratification temporelle pré-établie (Été/Hiver, Vacances/Périodes scolaires, semaine/week-end et matin/Après-midi). Les données ont été intégrées à une Base d'Information Géographique offrant un arsenal d'outils d'analyse spatiale et statistique. Les premiers résultats font état d'une « fréquentation différentielle » dans le temps et l'espace, dont les pics peuvent atteindre près de 10 000 usagers. La moitié des usagers reste concentrée sur une faible portion du linéaire côtier équivalente à 8 % de la longueur totale de la réserve et se répartit sur 4 principaux sites (Boucan-Canot, l'Ermitage, la Saline et Etang-Salé) qui s'avèrent être les plus pourvus en aménités (dépressions d'arrière-récif, sable corallien) et en aménagements (stationnements, bars, maîtres-nageurs sauveteurs). En outre, le protocole de suivi de la fréquentation de la RNMR présente de nombreuses potentialités en termes de gestion et de capitalisation scientifique, lesquelles sont présentées en discussion.
Fichier principal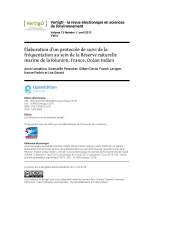 Elaboration_protocole_suivi_frequentation_sein_reserve_naturelle.pdf (1.11 Mo)
Télécharger le fichier
Origin : Publisher files allowed on an open archive