Ecotourisme et parcs naturels : innovations et contradictions sud-africaines, le cas de HIP (Hluhluwe-Imfolozi Park)
As one of the oldest game reserves in austral Africa, the Hluhluwe-Imfolozi Park (HIP), set in the heart of the KwaZulu-Natal province, has become a south-african example as a conservation sanctuary involved in ecotourism practices. Its rich biodiversity has paved the way to protection, tourism and participation initiatives during its development. Located in a country, which also gave priority to the sustainable/responsible tourism issues (in relation to its rich potential, level of services as well as strong governmental policy), the results are not free from several fragilities and insufficiencies. One also has to relate these facts to the inherited national socio-economical stakes. Finally, the particularity of HIP led in a mixed of seducing and, in such way, ambiguous ecotourism reality, putting together a strong and old provincial conservation programme, a diversified and adaptable tourism activity as well as a gradual involvement from the nearby tribal authorities in the Park policy.
Comptant parmi les plus vieilles réserves naturelles d'Afrique australe, l'aire protégée de Hluhluwe-Imfolozi Parc (HIP) se situe dans la province du KwaZulu-Natal en Afrique du Sud. Elle est aujourd'hui représentative d'une Afrique du Sud sauvage et ouverte aux visiteurs, dans un pays ayant fait une priorité des axes de durabilité/responsabilité touristique (sur la base d'un fort potentiel, de prestations de qualité et de l'orientation politique). En s'engageant dans la voie écotouristique, HIP est le cadre d'initiatives, en la matière, qualifiées de novatrices lors de leur établissement. Toutefois, le constat d'ensemble n'est pas exempt de fragilités, qu'il convient aussi de rapporter à d'importants défis hérités. Au-delà des résultats encourageants et des insuffisances notables, la politique du Parc, derrière la flexibilité touristique et la progression de l'échelon communautaire limitrophe, reste pour le moins ambiguë, dans ses aspects territoriaux comme dans l'implication des acteurs.
Fichier principal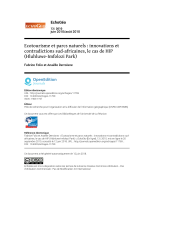 echogeo_ecotourisme_parcs_naturels.pdf (704 Ko)
Télécharger le fichier
Origin : Explicit agreement for this submission