La résistance des esclaves musulmans dans l'Amérique des Habsbourgs : naissance et développement d'un mythe
Enslaving a free Muslim was unacceptable for Islam. However, many Africans who had been enslaved by the Portuguese in the fifteenth century belonged to ethnic groups who had already been converted to Islam so that in Seville "Jolofes" and "Mandingas" were not an uncommon sight. Actually, they openly behaved so as to show that they rebelled against their condition.The same resistance took place with more violence in the New World where the misery of slavery became even worse. As early as the beginning of the sixteenth century the "Jolofes" initiated many serious uprisings which threatened the very existence of the inchoate colonial society. As a result the transfer of muslim slaves to overseas colonies was made illegal by royal writs, wherever they came from. But the slave trade made the enforcement of these rules problematic and over the years the rebellious behavior of "mandingas" came to be considered a manifestation of the Devil, a notion which thrived in literary tradition.
El Islam no admitía la reducción a servidumbre de un musulmán libre. Ahora bien muchos de los africanos reducidos a la esclavitud por los portugueses en el siglo XV pertenecían a etnias ya islamizadas, de manera que no eran pocos los "jolofes" y los "mandingas" en Sevilla donde daban pruebas de su insumisión.La misma resistencia se manifestó de un modo aun más violento en el Nuevo Mundo donde empeoraron las condiciones de la esclavitud. Desde principios del siglo XVI los "jolofes" suscitaron graves levantamientos que amenazaban a la flamante sociedad colonial. De ahí las prohibiciones formuladas por las reales cédulas de trasladar esclavos musulmanes a ultramar, cualquiera que fuera su origen. Pero la trata hacía difícil la aplicación de dichos textos, y, andando el tiempo, el comportamiento reacio del "mandinga" se consideró como una manifestación diabólica, visión que recogió la tradición literaria.
La réduction d'un musulman libre à la condition servile n'était point admise par l'Islam. Or de nombreux africains réduits à l'esclavage par les Portugais au XVe siècle appartenaient à des ethnies déjà islamisées, de sorte que les "jolofes" et les "mandingas" n'étaient pas rares à Séville où ils faisaient montre de leur insoumission.Cette même résistance se manifesta d'une façon plus violente dans le Nouveau Monde où les conditions de l'esclavage empirèrent. Dès les débuts du XVIe siècle les "jolofes" suscitèrent de graves soulèvements qui menaçaient l'existence de la société coloniale naissante. D'où les interdictions formulées par les cédules royales de transférer outre-mer des esclaves musulmans, quelle que fût leur origine. Mais la traite rendait difficile l'application de ces textes, et, avec le temps, le comportement rétif du "mandinga" fut considéré comme une manifestation diabolique, vision que recueillit la tradition littéraire.
Fichier principal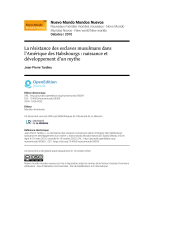 nuevomundo-59309.pdf (963.87 Ko)
Télécharger le fichier
Origin : Publisher files allowed on an open archive